Dogs must be on leads on the Ayres National Nature Reserve (NNR) from 1st April to the 31st July to comply with the Ayres NNR Byelaws. 
Failure to do so could result in a fine of up to £5,000.
The Ayres NNR is an important refuge for ground nesting birds that have undergone declines in their abundance and retractions in their range across the Isle of Man. 
Curlew, lapwing, oystercatcher, ringed plover, little tern, Arctic tern, skylark and meadow pipit all lay their eggs on the ground at the Ayres NNR.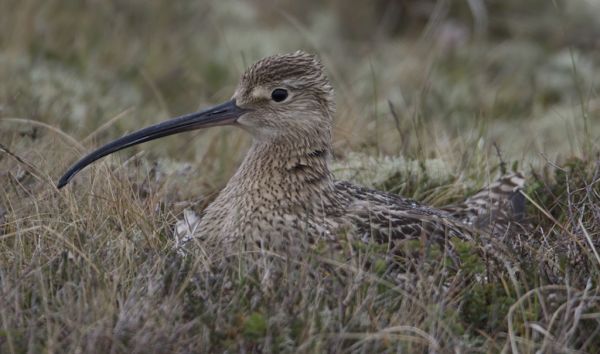 Curlew on a nest by Sean Gray.
When wader and tern chicks hatch out, they move away from their nests and wander freely under the watchful eye of their parents. 
It can be up to five weeks before these chicks are able to fly and, during this time, they are extremely vulnerable. 
The restrictions to dog walkers apply to the heathland and the beach and enable ground-nesting birds to settle in their breeding areas and raise their chicks.
Visitors to the Ayres NNR are asked to stay on the main paths and move away if birds show signs of agitation or distress.
Posted up on 30th March 2023