In our regular feature in Business 365 magazine, authors from different walks of Manx life offer a personal perspective on #MyBiosphere. This month, Laura Espinosa Moon writes:
I first moved to the Island aged five and, even at such a young age, I recall noticing a beautiful, bleak wildness that gripped the Manx landscape. The drama of the skies was of stark contrast to the southern shores I had come from. 
I knew that my parents loved this wildness. Every Sunday we would head out on a new adventure, armed with soup and sandwiches, hats, boots and waterproofs. I remember misty stomps up South Barrule, a very long climb for a child, with promises of treats at the top.
Exploring the strange abandon of the Chasms, and Rushen Mines and, one sunny day, actually finding treasure within a rock pool at Niarbyl: Victorian silver earrings, various coins and an engraved silver bone handled knife that had washed up to the beach from an old shipwreck. Such finds really instilled a sense of wonder in a young mind, and the feeling that not only is this a place where magic can happen, it is woven into the fabric of the land.  
Like many young artists, I left the Island in my mid-20s to further my education, not returning until many years later. The pull to return was strong, like a tide, and in fact one of my main hankerings while away was to live by the sea again, and enjoy a quieter pace of life close to nature - a sign of middle age.
On return, I saw the Island with fresh eyes. I couldn't believe the quality of light, especially at the Ayres National Nature Reserve. It still does take my breath away upon every visit. I'm sure that I'm not alone in thinking that this is my special place. 
The feeling that I get up there is something that I can't find anywhere else. It is transformative, liberating.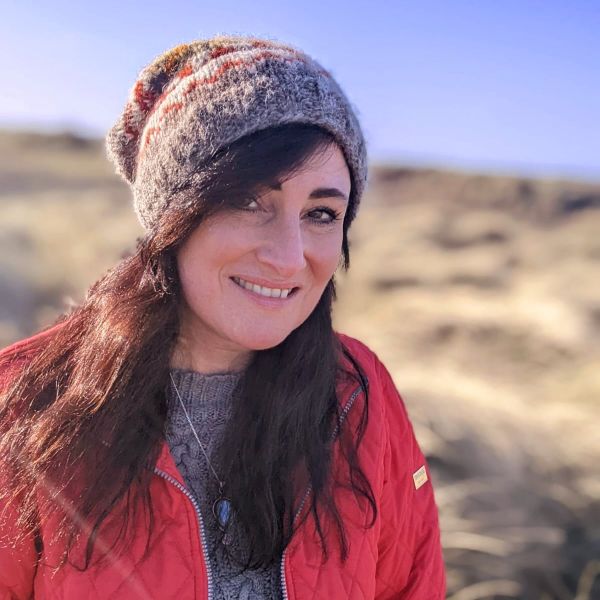 Suddenly I am not just an observer - I AM the ocean, the roaring waves, the glorious sand dunes with swishing long grasses and beckoning little paths. I AM the sky, huge and expansive, a canopy for ever changing emotions, the elements playing out their drama and a never ending dance with the sea.  I AM the miniature flowers that cling close to earth, and the crunchy lichen, thriving in the clean air. I AM the bird cry that carries, loud and shrill, a call from the wild that cuts back through time. 
I've been lucky enough to call the Island home for over a decade now. I find it incredibly grounding, healing, and it has a restorative effect. It has an environment and culture that is particularly good for creatively minded people.
I believe that everybody can be creative, but here there is much support available from the Isle of Man Arts Council and Culture Vannin to help creatives really thrive. 
A deep love and appreciation of nature is an ethos that I infuse and integrate into my art classes and painting workshops at my lovely studio by the sea in Peel. 
Regaining our connection to the earth, all living things, each other and ourselves is what people are crying out for right now. At workshops, we often have a very gentle stroll somewhere beautiful for inspiration before painting, and the sense of calm from even 10 minutes in nature can offer a huge boost to wellbeing. 
The Isle of Man has so many opportunities for living a wonderful life. It's all here for you - even on a small Island there is always somewhere new to explore. Get your boots on and get out there!
Laura has always been an artist and has turned her hand to various disciplines over the years, from illustration to wall art. More recently, she has had much success with a new direction and a series of semi-abstract paintings that have a fresh contemporary feel, painted on wood or canvas. Laura has oodles of experience running her popular painting classes and has supported hundreds of people on their creative journey to wellness.
Posted up on 22nd October 2022