A pamphlet of poems by Manxman Simon Maddrell, published this month, showcases the Isle of Man's landscapes, customs and lore but also casts an eye back to less enlightened times in politics. We speak to him about it:
What does the title of the pamphlet, Throatbone, mean and why did you chose it?
Throatbone is the title of one of the poems. It refers to Crosh Bollan (Manx Gaelic: Wrasse Cross) – the T-shaped throat and upper palate bone of a wrasse fish, traditionally used as a lucky charm or amulet by fishermen and other travellers. I have to credit my editor, Anthony Anaxagorou, for the suggestion.
A cousin, Will, referred to one of the 'revelations' in the book as a 'throatbone' and I like that ambiguity of how the word can be associated with different subjects in the book.
Are the poems all recent works or do they date back some time?
Apart from three poems, which are maybe three years old, the poems were drafted during the second half of 2019 during quite an intense writing period. The old poems have been changed substantially as my poetic skills have developed.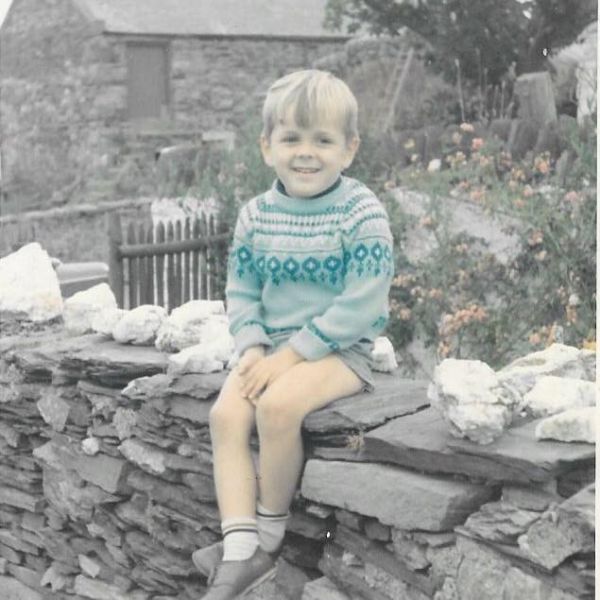 Simon in his grandpa's garden, Cooilbane, Cregneash
How has the pamphlet come about?
I sent some of the Manx poems for a competition in late 2019, and Henry Stanton, publisher of UnCollected Press, USA, and his editors absolutely loved them, so I offered them a manuscript. They had it on February 1st and, two weeks later, accepted it.
Culture Vannin has kindly ensured that we get distribution of the pamphlet on the Island, with a grant covering initial stocks, and I'll be using some of that to provide free copies to libraries and schools.
The book is evocative of Island landscapes, customs and lore, but this is interwoven with comment on the political scenes and decisions of the day. How did you so skilfully combine the two?
The poet Will Harris also talks about this kindly in the pamphlet blurb. For me, when I start a poem I never know where it is going to end, or, often, even go, but something will spark an idea or direction, either while being present at a place, during research or simply while writing it. For example, I realised the straight road to Niarbyl and where I sat on the rocks was exactly facing the North/South Irish border so that's where the poem went.
Did you also set out to give people a glimpse into an Island they don't recognise now and educate them about past culture and heritage?
I set out to write poetry 'inspired by the Isle of Man' and I am well on my way to having enough poems for a full collection, which will capture an even broader view of the Island's history, places and folklore. But I didn't set out to educate. Poetry is an experience and you can't – and shouldn't try through rhetoric – to control how someone will feel or change as a result. I wouldn't say I'm 100% successful in this but it is an aspiration and the best I can hope for is that readers feel something, and they are enriched by the experience.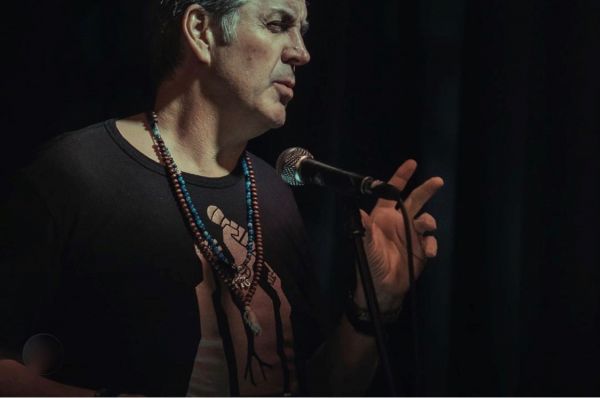 Simon began his poetic journey on the London Spoken Word circuit
Throatbone can be seen as 'all about the Isle of Man or nothing about the Isle of Man' or somewhere in-between. Having said that, there are quite detailed notes giving background to the inspiration, history, language and facts about many of the poems, which I thought was important for the UK and US audiences. Of course, this does also offer Manx people awareness of a history they may not know.
The book feels deeply personal. You mention your family, growing up, your sexuality/early relationships and how this was perceived. How did you feel revisiting this?
It's not a popular view in literary circles, but I believe poetry can be therapeutic but it can't be good poetry if it is only that. Hopefully readers are 'invited in' to share the experience of a poem, whether it be personal, political and/or communing with nature and existence. Emotions are essential to poetry so revisiting my own – or feeling how they sit now – then expressing them in authentic, surprising but accessible ways is one of the biggest challenges for a poet.
The last poem in the pamphlet indicates that the Isle of Man will always be your home and refuge. Does this bring peace and closure to past events?
I love the Isle of Man. It is my home, where I was born and where my paternal family has centuries of history. But the publication didn't aim to have therapeutic outcomes. The one thing discussed in the book that hasn't brought closure in my opinion, is the police policies and behaviour towards gay and bisexual men, especially between 1986 and 1992. The poem 'Death & Debts' discusses the idea of an apology for this: not an apology to me but an apology to those men who suffered and the families of those men who committed suicide as a result.
Finally, nature and environment feature strongly in the pamphlet too. Can you tell us about that?
I'm a passionate environmentalist with a love of nature, and farming in my blood, so inevitably those themes emerge here and there, in particular around conservation: puffins, hen harriers, Manx shearwaters and longtails. There will be even more nature in the book-length version. The Isle of Man Biosphere of landscapes, biodiversity, heritage and culture is a unique and beautiful place and I hope my poetry feels like a celebration of that.
The online Isle of Man launch of Throatbone — supported by Culture Vannin, Manx LitFest and UCM — will be on Wednesday 23rd September, 7.15pm for 7.30pm. The Zoom link will be advertised on social media.
Annie Kissack, the fifth Manx Bard, writes in the blurb:
'In the 19th century, the great Manx poet, T. E. Brown, brilliantly portrayed an island population in the throes of contradiction and change. Simon Maddrell has built on that tradition. Deeply personal, often painful, his poems evoke a vivid landscape in which old words and traditional lore are reassembled in new and challenging forms. The effect of this multi-layered work is both beautiful and disconcerting.'
Simon Maddrell was born in Douglas in 1965 and now lives in Brighton and Hove. He founded multi award-winning UK and Isle of Man charity Excellent Development in 2002 but resigned as Executive Director in 2016 to focus on writing. He writes 'through the lens of a queer Manx man thriving with HIV'. Throatbone is published by UnCollected Press, USA, and is on sale at the Lexicon Bookshop, Douglas, and The Bridge Bookshop, Port Erin and Ramsey, priced £7.99. Follow this link to order from The Bridge Bookshop.
Facebook:  @simonmaddrellpoetry
Instagram:  @simonmaddrell
SoundCloud:  @simonmaddrell
Twitter:  @QueerManxPoet
E-Mail:  QueerManxPoet@btinternet.com
Posted up on 31st August 2020