I moved to the Island from land-locked Nottingham due to a desire to live by the sea and was fortunate to accept a job offer for my then career as a social worker. Fast forward 20 years, I have learnt to dive, ride a motorbike (not so well) and stand-up paddleboard (SUP).
We are lucky to live on an amazing Island that offers so much to those with a sense of adventure. The ability to easily access the outdoors gives Island residents the opportunity to enjoy real adventures, to take time out from work and to be invigorated by nature. 
Following a motorbike accident, paddleboarding became my passion and, ultimately, turned into my new career with the establishment of Saltworks SUP in 2016.
SUP is a growing sport on the Island. The boards are specially designed to be stood on while you propel yourself with a single long paddle, changing strokes from side to side in order to keep in a straight line. It can take a bit of getting used to, but once the 'disco legs' have passed, the rewards are well worth the effort. One of the huge advantages of paddling a SUP is the fact that you're standing up which gives a unique, 360 degree, view of our coastline (both above and below the water).
We have some fabulous locations around the Island, from sheltered sandy beaches to more adventurous coastal paddles around headlands covered with seabirds and even a few shipwrecks. It's truly amazing to see our Island from a different perspective, with the tranquility allowing you to safely observe marine life and explosions of colour as you glide over different varieties of seaweed.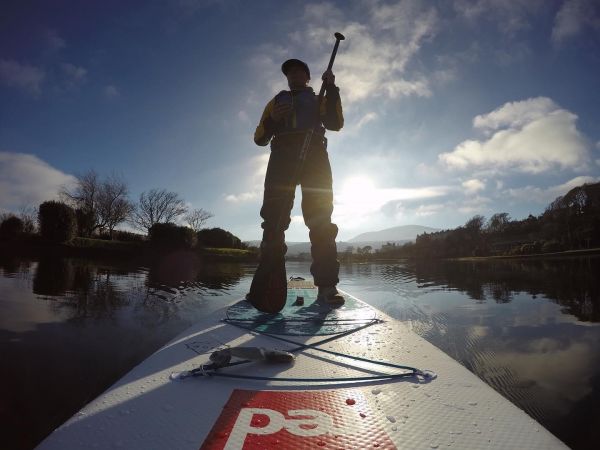 If we're really lucky we encounter 'common' seals, which are curious to watch humans appearing to 'stand' on the water. While seals usually follow us from a distance, occasionally we can see a shimmer in the water as they swim beneath the boards. 
With access to so many beautiful beaches and paddle spots comes the responsibility to protect both our shores and marine environment by following the principles of 'Leave no Trace'. It's not everyone who can say they regularly paddle in a UNESCO Biosphere and marine nature reserve.
SUP is a lifestyle that attracts people of all abilities. Paddling is a great relaxer; as we live an ever 'busier' world, taking the time just to quiet the mind and enjoy the sea has never been more important.
The unique perspective that you get once you start 'feeling the water beneath your feet' is a sense of adventure, freedom and camaraderie, whether exploring new places or simply paddling out from the beach. 
It's a great sport and one SUP enthusiasts naturally want to share with other people - just one of the many reasons why SUP is flourishing on the Island.
As with all water sports, we recommend getting a lesson from qualified instructors to ensure you have a safe and enjoyable time.
Saltworks SUP is an accredited SUP school with www.waterskillsacademy.com
Michelle Stewardson is the founder of Saltworks SUP and part of the Waterskills Academy's national trainer team. She is a volunteer crew member on Ramsey lifeboat. 
Posted up on 10th June 2021