THE Isle of Man will be represented on a Celtic nations' dawn chorus radio broadcast that will be heard globally this Sunday (2nd May).
Manx Ornithological Society's annual dawn chorus outing to the Arboretum in St John's from 5am to 7am will this year be part of Irish RTÉ Radio One's live International Dawn Chorus broadcast.
The Island will join BBC Scotland, BBC Wales, Birdwatch Ireland and contributors from Cornwall, Brittany and Northern Ireland on the programme.
RTÉ is part of the Irish national broadcaster and is based in Dublin, location of Dublin Bay Biosphere.
'RTÉ's dawn chorus broadcast has become something of a national institution,' producer Ana Leddy said. 'Listeners across Ireland and around the globe tune in during the early hours each May to hear a unique and uplifting celebration of birdsong and the natural world. This year they will be treated to Manx birdsong, too.'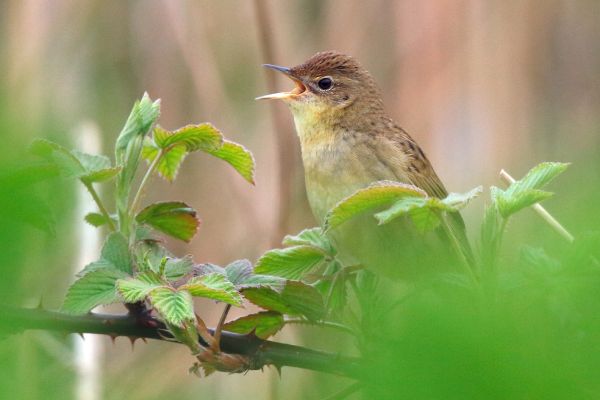 A grasshopper warbler in full song (Neil G Morris)
The Isle of Man segment of the programme will be presented live by Manx BirdLife tutor Tim Earl.
His classes gave rise to the Manx Early Birders group and the Facebook page Manx Birds From My Window, which has more than 1,100 members.
'The Isle of Man has always been on the ornithological map thanks to the Manx shearwater and the outstanding Calf of Man Bird Observatory,' Tim said. 'This broadcast will further our reputation as a top birding destination.' 
International Dawn Chorus is winner both of the National PPI Radio Award for Innovation and the coveted International Rose d'Or award.
The broadcast comes at a time when interest in birdsong is high. The Covid pandemic and the resulting decrease in traffic, etc, has allowed birdsong to be heard more clearly.
RTÉ describes its broadcast as 'one of the finest free concerts you will hear all year'.
All are welcome at the MOS event. Wrap up warm and take binoculars.
Posted up on 29th April 2021