Well-known Isle of Man artist Petrina Kent is January's guest author in the #MyBiosphere series that features in Business 365 magazine, published by Mannin Media:
Before I arrived on the Isle of Man in 1982, I didn't know the place existed, let alone that it was so far out in the middle of the Irish Sea.
On my way here, and on my first ever flight, the pilot announced that he couldn't land because he couldn't see the Island. We would be landing in Dublin instead. As it happened, the mist cleared and we were able to land.
Soon after my arrival, I took a walk to investigate Castletown and found myself at Scarlet. The cloud that had covered the Island on my arrival had lifted and a silvery light prevailed. There I sat amidst a sea of auburn coloured seaweed simply absorbing beauty, and I knew that I had arrived. I was 'home'.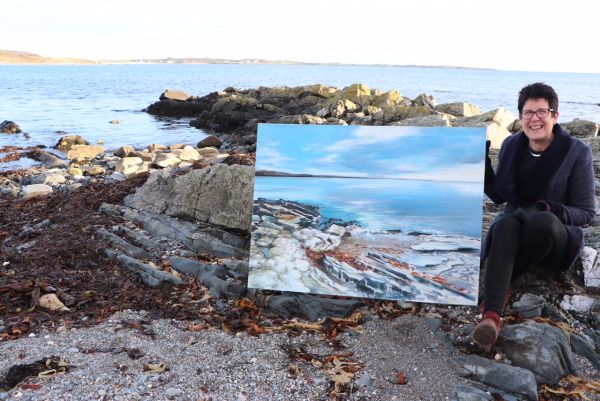 This Island is a sea of wealth in its beauty. 
The delicate lichen which thrives here for the air is so pure, can be found in all shades of orange through to citrus green, and in whites and greys; morphing from colour to colour as the seasons progress.
They grace our rugged stonewalls, and paint filigree doilies over the rocky coastline. 
And then there is Enteromorpha, better known as algae or sea lettuce. I simply fell in love with it. Not because it is the subject of university studies, but because it paints a brilliant line of lime green around the coast which, in the heat of summer, turns pure white. Now that is a sight of wonder to those who will see.
Raised lines of green from hidden field boundaries topped with brilliant orange gorse run across the landscape and are left to tell their own ancient story. The colours of burnt umber and sienna in the heather and bracken grace the moorland in autumn and in summer when in bloom we are treated to the extraordinary mix of purple and green. 
Open and sometimes bleak landscapes hug the canter of the Island and the occasional windblown tree is seen. The truth is, the trees are not actually blown over; the harsh winds burn off the growing shoots on the exposed side, leaving only shoots on the protected side to grow in that direction. This makes them look like old men bracing themselves against the weather. This is very 'Manx'.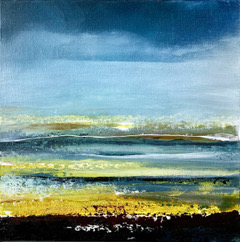 And one simply cannot ignore the blanket of mystery that comes upon us as mist. Either creeping up from the sea, rising to sit as it will upon the hills. Or, as slow motion waterfalls fall to settle again upon the sea.
Yes, this is an Island of unique wonder and beauty and, as a friend of mine recently told me: 'Do not underestimate the effect living on the Isle of Man has had on you as an artist.'
It has indeed had a profound effect and I have dedicated most of my working life as an artist to capturing its unique beauty.
The journey has taken me from simply capturing the landscapes onto canvas to more recently painting abstractly from my internal landscape of absorbed experience of place. 
Petrina Kent studied at Bath Academy of Art, gaining a Fine Art Degree (hons) in 1978. She moved to the Isle of Man in 1982 to teach Art at secondary school and adult education. She has been a professional artist since 1990.
Web: https://blog.petrinakent.com/
Posted up on 17th January 2021