Geoff Karran MBE TH is August's guest author in the #MyBiosphere series that features in Business 365 magazine, published by Mannin Media:
Apart from two short periods spent in London at law college, I have been fortunate to have lived all my life in the beautiful Isle of Man.
I am proud to call myself a Manxman. My family on my father's side can trace their ancestry back to the 13th Century and I am a direct descendant of the Big Karran of Cregneish.
By the time I was born, both mother and father had moved to Douglas but most of our weekends were divided between visits to the south or to Peel, where my mother's family came from. The point at Port St Mary was my father's favourite spot, where we could sail boats in the now-defunct boating pool or clamber over the rocks searching the pools. The beaches of Port Erin, Port St Mary and Peel were our favourites for sand castles.
My father's passion for sport was passed on to me and we watched and supported dad's team of Castletown, whether playing football or cricket.
This Island can really be called an Island of Sport and, as I have gone through life, the facilities for sport have grown and grown.
In 1985, we celebrated a Year of Sport and hosted the first Island Games, where teams representing small islands competed in various sports. This is now a biennial event and 24 Islands compete in up to 14 sports.
Also in 2011 we hosted the Commonwealth Youth Games with 67 nations around the world coming to our Island to compete in different sports.
My passion was cricket, which I managed to keep playing until my 40s.Then I took up golf.
My favourite place in my beautiful Island is the 12th tee at Castletown, where you can look to the Chicken's Rock, past the ancient capital of Castletown, South Barrule up through the middle of the Island to Snaefell and the north.
I once asked local artist David Byrne if he could paint a picture of all I could see but said it would be impossible to recreate such a wide expanse of beauty in one painting.
My children have grown up with the same pride in being Manx and with a love of the beauty of our Island. Both my boys spent time living off the Island. Whenever they came back home we had to drive through Cregneish and then down to the Sound, Kitterland and the Calf. Every time, there would be a compulsory photo taken with the Calf in the background.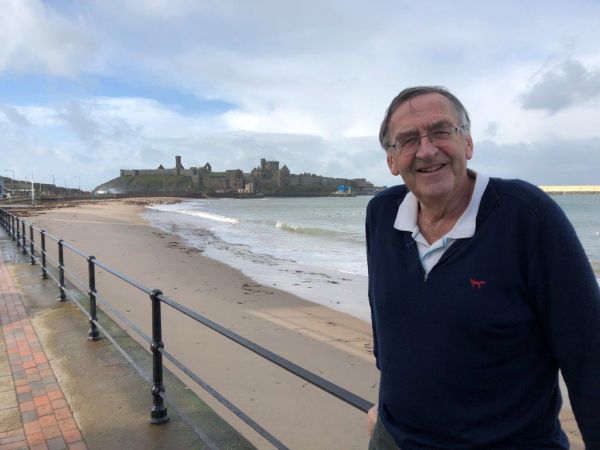 In later life, I have taken part in what is the greatest Manx community event with up to 1,600 people competing in the Parish Walk. The walk not only enables you to see so many interesting facets of the Manx countryside, not visible from a vehicle, but also witness the friendliness of the Manx people.
I know I will never be good enough to finish this event. My best effort so far was to reach Kirk Michael, a distance of 39 miles, but I have decided to have one last go to beat that record and get to either Ballaugh or Jurby. Maybe next year.
So my love of sport has enabled me to see more of my beautiful homeland - a place I knew from an early age that I would never want to leave.
Geoff Karran MBE is a retired advocate, former President of the IOM Law Society, former Chairman of the Financial Services Authority, former Chairman of Isle of Man Sport and Chairman and Director of the 2011 Commonwealth Youth Games and is still associated with several charities on the Island helping people with learning disabilities. He is the recipient of the Freedom of the Borough of Douglas and the Tynwald Honour.
Posted up on 20th August 2020