Our Biosphere boasts a significant population of elm trees - one of the most impressive in Europe. Conservation experts Philippa Tomlinson and Peter Davey tell us more about them and the threats they face:
On the Isle of Man, we are fortunate to have a significant and diverse population of elm trees; indeed it is one of the best collections of mature elm trees in Europe. 
We have a 'refugeum' not only of our native Wych Elm but also several non-native species; the most widely planted being the Dutch elm. The latter is a cultivated hybrid and it is easy to propagate because it suckers profusely. It's the one with corky bark on the branches.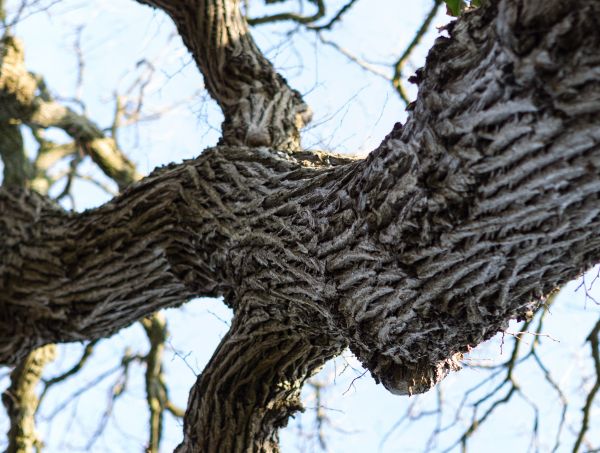 Field elm trunk with characteristic bark (photo: John Caley)
I like to think back a hundred years or so to the people who planted trees along roadsides and around farmhouses and what they had in mind, apart from creating shelter and visual impact. They probably chose this particular elm tree species because of its resilience to salty winds and its speed of growth. 
Field Elm is another tree species planted on roadsides in at least a dozen locations around the Island, forming striking features in the landscape. Wheatley, or Guernsey Elm, has been planted on roadsides around Douglas some of which are now significant trees.
The association between elms and people in Europe is strong and reaches back into prehistory. Elm wood has many important properties which make it versatile. For its elasticity and longitudinal toughness, it was used for longbows and all sorts of other items: wheels, pulleys, shafts, handles and chairs to name just a few. The ability to resist wet rot also led to elm timber being used for ships' keels, coffins, waterwheels, flumes, pipes and groynes.
Another use for elm trees was developed by the Romans in the 1st century AD for growing vines and it is thought that some hybrid elms were propagated which provided the right growth forms. They were then transported from Italy to Spain, France and eventually to Britain, where they became known as English Elm. This hybrid is also a clone (that is, each individual is genetically identical).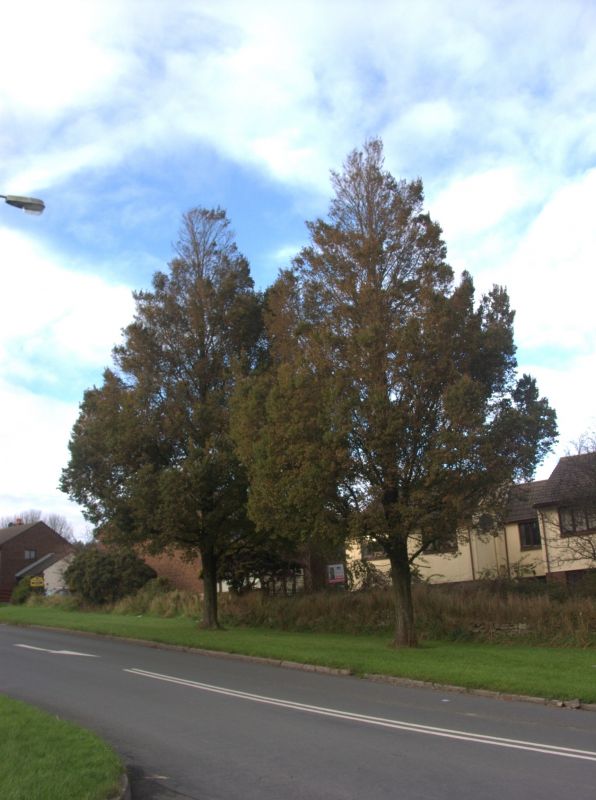 Wheatley elm on a Douglas roadside
The way that humans have interacted with nature in many ways has caused increases in diseases of wild plants and animals, as we can see from Covid-19. 
An example of this is 'Dutch' elm disease (so-called because important early research on the fungus was carried out in the Netherlands). 
Recent research has shown that its rapid spread in Europe and the British Isles is partly due to the widespread introduction and planting of cloned species. The disease spreads rapidly through these clones and along the suckers from tree to tree, unfortunately, then spreading to the native Wych Elm species as well.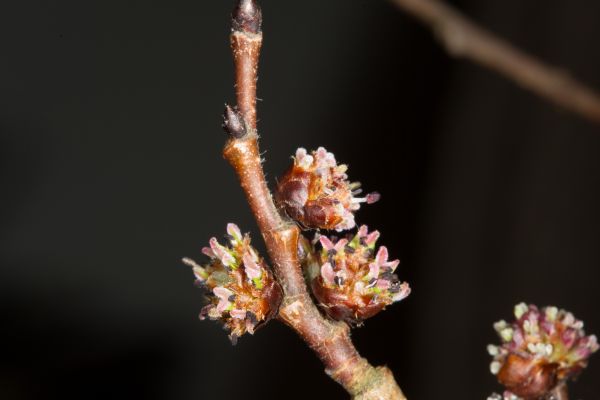 Elm buds  and flowers in early spring (photo: John Caley)
Why are many mature and veteran elm trees being felled at the moment? This is not because they are overly mature but because they are dying of this fungal disease, which is spread by a species of flying beetle that lives under the tree bark and carries the fungal spores from tree to tree. The fungal infection then kills the elm trees quickly. 
The beetles are more likely to fly a distance when the weather conditions are suitable, that is warmer days and lower wind speeds (optimally over 22 degrees Celsius and less than 5 miles an hour). It has been suggested that with the Island having only a few days a year with such suitable conditions for flight, this has helped to prevent the rapid spread of the disease here (Coleman et al. 2016).   
Disease prevention is supported by the work of the Isle of Man Government's forestry experts in removing diseased trees rapidly, but, as spring temperatures increase with climate global heating, it is probable that the beetles will fly more frequently and the disease is likely to spread further. 
Elm disease is easy to spot if you know the signs and what to look for. The Isle of Man Government asks you to become an extra pair of eyes and help flag up any trees, on public and private land that you believe may be infected. If you suspect an elm tree is diseased, send an email to forestry@gov.im Include a photograph of the tree, a close up of the symptoms and a location, including street name, building, house number/name or park with approximate location. Alternatively, phone 01624 695701. Forestry officers will then take immediate action to inspect the tree and, if it is infected, remove it and stop the disease spreading.
Reference:
Coleman, M,  A'Hara, S W, Tomlinson P R  and  Davey, P J, (2016) Elm clone identification and the conundrum of the slow spread of Dutch Elm Disease on the Isle of Man, New Journal of Botany, 6, 2-3, (79-89).
Posted up on 7th December 2020