University College Isle of Man's third annual Research Festival takes place at The Nunnery, Douglas, on Friday 24th September, from 9.55am.
The sustainability-themed event will be opened by Dr Alex Allinson, Minister for Education, Sport and Culture.
The morning will see four presentations:
Laura Stewart, graduate scientist with the Isle of Man Government Climate Change Transformation Team, who will speak about 'How big is the carbon footprint of our land – towards a more sustainable future for the Island's land use and agriculture.'
Dr Florida Clements, a programme leader at UCM, will give a presentation entitled 'All dressed up and nowhere to go: can branding and marketing strategies help turn around the fortunes of the Isle of Man?'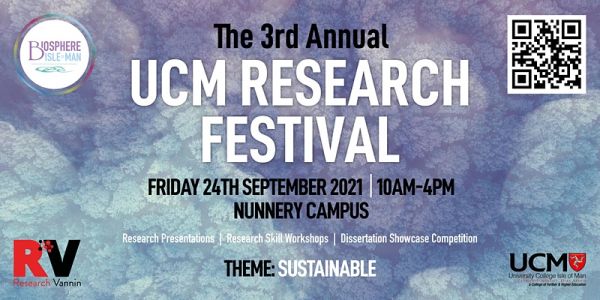 Dr Alison Fox, curator of archaeology at Manx National Heritage, will deliver a talk on 'Getting in the way of ships', about underwater archaeology findings.
Anneka Dellborg, who is starting a sustainable fashion in the Isle of Man , will speak on 'When curiosity becomes research and research becomes a small business.'
After a lunch break, seven final year degree and Masters students will take part in the UCM Dissertation Showcase.
There will then be workshops for those undertaking research.
To register free for the event, and view the full programme, click here.
Posted up on 21st September 2021