By Allison Fox, Curator, Manx National Heritage
Supporting and promoting our cultural heritage is a key pledge principle for Biosphere Isle of Man. 
Archaeological excavations just south of Kirk Michael have made some wonderful discoveries which will provide plenty of opportunities to help fulfil that pledge in the coming years.
The Round Mounds of the Isle of Man project started in 2015 to reassess a type of burial mound found on the Island, dating roughly to the Bronze Age (2000 to 500 BC).
Project directors Dr Rachel Crellin and Dr Chris Fowler started the systematic excavation of one of these monuments in 2016 with the kind permission and support of the landowners and the farmer at Berk Farm. 
It wasn't a great surprise when burials were found, but the variety of artefacts and potential time span of use of the site has been quite astonishing.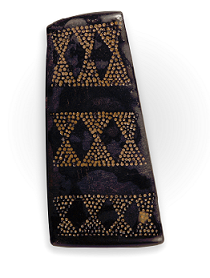 Cremated human remains have been found associated with decorated pottery, some of the pots being of quite substantial size. Hundreds of flint tools have been found with evidence of working onsite, suggesting that the mound was used as a place for the living to use, as well as the dead.
One of the most extraordinary finds was a necklace, made from jet beads most likely from Whitby in Yorkshire. Some of the larger beads have fine geometric patterns on them and the original necklace would have had seven strings of smaller, undecorated beads - quite a statement piece.    
Excavation is only one step in the process of understanding this fascinating period of Manx prehistory. The importance of long-term research projects like this lies in the detail that can be gained through painstaking archive research, excavation and subsequent post-excavation analyses. 
Further analysis on the artefacts over the next couple of years will help us tell not only the stories of these ancestors, but also how the Manx landscape was used 4000 years ago. 
The project this year received funding from Manx National Heritage, University of Leicester and Newcastle University with support from the Isle of Man Steam Packet Company. Over the course of the project grants and support have also been provided by Culture Vannin and Northern Archaeological Associates.
Newsletter photo:
Decorated jet bead ©Manx National Heritage
Posted up on 2nd August 2019