Our #CloserToNature series of blogs aims to keep us connected with nature this spring and summer while staying at home. Falk Horning, Chair of the Isle of Man Woodland Trust, writes about the rewards he gets from planting and studying trees:
One of the joys of spring is witnessing the reawakening of the landscape. Birds of many kinds vie with different melodies for the attention of potential companions. Insects buzz at our windows, trees come into leaf again and flowers blossom.
As a youngster, I paid little mind to trees. They were always around, static, and uninteresting. I was far more interested in things more dynamic and lively. They seemed more live.
However this perspective changed after planting my first trees at the age of 27 in my fourth year on the Isle of Man. Returning to them from time to time, I understand that life goes on for them - just at a quite different pace. I must be getting old!
Since then I've been involved in plantings from Jurby in the north all the way down to Ballamaddrell, near Colby. I've learned how to identify the native trees of the island and where the different species prefer to grow, which species like the glens, which the moors and which ones can survive by the sea.
It's been one of the most rewarding experiences of my life. There is something deeply satisfying in helping a living being and observing it change and grow over time. I have come to believe that if every one of us planted a tree at some stage in our lives it would change our relationship with the natural world around us.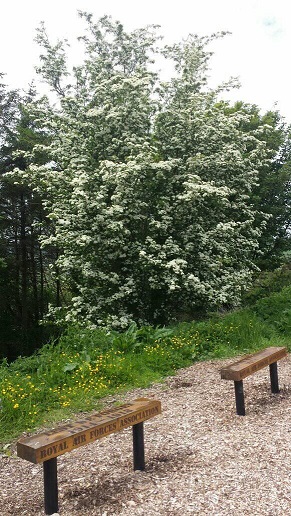 Every year, we at the Isle of Man Woodland Trust plant several thousand trees. Our events are open to everyone.
We are only too happy to help new volunteers put their first saplings into Manx soil. Our planting sessions are between October and April, when the trees are leafless and dormant. The vast majority of the trees we plant are broadleaf, native species. They drop their leaves when it gets colder to save energy and hibernate just like a bear. Some of that energy in the leaves can be used up by the trees during the winter, just like the fat in a bear's belly.
This time of the year, nearly all deciduous trees have come into leaf again. Willows are usually some of the first species to flower. The flowers of willows are some of the earliest big food sources for many pollinating insects, including honey bees.
Cherries usually follow up a bit later and their flowers can attract such a buzz that one would be forgiven to think that somewhere hidden in the branches a bee hive is hidden.
The usual laggards are oaks and ash. There is an old saying predicting the summer ahead based on which of the two species comes into leaf first: If the oak before the ash, then we'll only have a splash, if the ash before the oak, then we'll surely have a soak. Based on that, we should be in for a pretty dry summer. Fingers crossed! 
You can find out more via our website woodlandtrust.im and our facebook page @isleofmanwoodlandtrust
Main photo: a recently planted Elder reawakening after winter. Inset: flowering Hawthorn at Isle of Man Woodland Trust's site, Centenary Park
Posted up on 20th May 2020