Author and nature lover Susan Jellis has published a book celebrating 'The Magic of the Manx Glens', beautifully illustrated with work by local artists and photographers. It is raising money for Biosphere Partner charity Disability Networks. Susan tells us about it.
What is your connection to the Isle of Man and background as an author?
My Cumbrian parents were long-time residents of the Isle of Man and my own family has spent a great deal of time on the Island over 45 years. After a career in language reference publishing with Cambridge University Press and Bloomsbury Publishing plc, I now follow my lifelong interest in gardens, landscape and their cultural history, writing garden-related and historical articles for various publications. I contributed for some years to the original Manx Life and am the author of two books with Manx interest, Southbound to the Sunshine and Looking for Eliza, in addition to Bloomsbury's Squares and Gardens.
How did your love of Manx glens start and grow?
Visiting my parents, often several times a year over more than 40 years, my husband and I loved walking the glens whenever we could, later on introducing our young sons to them - and our sons now do the same with their young families.
What is special to you about Manx glens?
You so often have them all to yourself (a special privilege these days) and can just hear the crunch of your boots, the birds and the rushing water. They are all different, but I think it's the possibility of 'a green thought in a green shade'* that so many of them offer that is part of their magic for me.
*(The Garden, Andrew Marvell)
How did the idea for the book come about?
For the first time in an unbroken run of 45 years, the Covid lockdown meant that I could not visit the Island. I was locked out. On my first visit back, walking in Ballaglass Glen, I thought I'd love to write about the glens in a book similar to the one I had recently done on the Bloomsbury Garden squares, again for a charity. I knew Suzanne Cubbon's book on the glens was going out of print and she was not going to reprint, so it seemed a good time to offer it to Disability Networks, to support their work. I was especially interested in their junior beach wheelchair project. My friend Beth Martin is the coordinator of the charity. We met through our husbands' professional contacts. Once the Department of Environment, Food and Agriculture and Visit Isle of Man offered to support the design and printing costs, the book became a reality.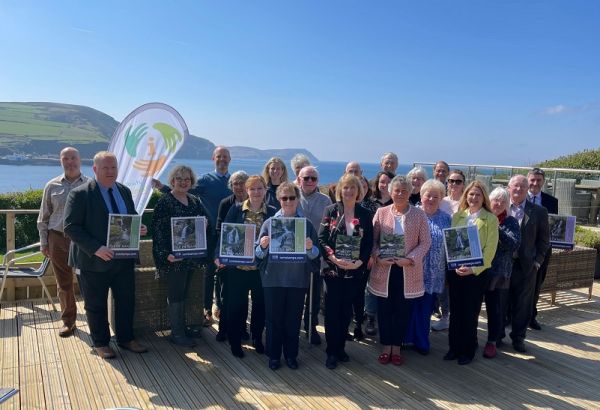 Author Susan with Lady Lorimer MBE, Beth Martin from Disability Networks, and representatives of DEFA, Isle of Man Post Office and contributing artists and photographers at the book's launch
Tell us about the book?
I have called the book 'The Magic of the Manx Glens' because I wanted to evoke their special ambience and to be clear that it is not a guide book or walks book but a celebration of these special places. There is a little history and description of each of the 18 National Glens and each has original photographs by myself, my husband and local photographers Rachel Price, Peter Killey, Chris Martin and Beth Martin. A special feature is the original artwork for many of the glens: Ronnie Doyle and Michael Starkey created new work specially for the book, and Tracey Dean allowed me to use her images of waterfalls that also appear on the new Isle of Man Post Office commemorative stamp issue, for which I wrote the text. All these contributors offered their work free. Julia Ashby-Smyth was commissioned to produce title pages and script. Marion Hughston of Artstream created the wonderful look of the finished work. Words and Spaces did a great print job. I'm so grateful to everyone for their contributions to a really lovely book.
Where can we buy the book and how much does it cost?
The book is on sale at Bridge Bookshop, Mostly Manx, Manx National Heritage outlets and Manx Wildlife Trust's gift shop and is priced £10.
Do you have a favourite glen and, if so, which and why?
This is always difficult. There was only one glen I had never been to before (Colby Glen - my parents lived up at Bride) and one or two I had rarely visited, so it was good to rediscover some again when doing my research. I would find it hard to choose between Dhoon Glen, Tholt-y-Will and Ballaglass Glen, though maybe gentler walks will entice me more as time goes by.
Posted up on 9th May 2023