A beach wheelchair will allow children with disabilities to explore Port Erin beach. Beth Martin from the charity Disability Networks writes:
It has taken Disability Networks a while to raise the funds required for the junior beach wheelchair during Covid-19 restrictions so it was wonderful to finally launch the junior addition to the Disability Networks' beach wheelchair service on 24th June 2022 in Port Erin.
A huge thank you goes to the sponsors who chose to get involved, including Biosphere Partner Manx Telecom's It's our Community scheme and fellow Biosphere Partner Zurich Isle of Man on its celebration of Purple Light Up Day, which acknowledges the contribution disabled employees make to the global economy.
Events were held to raise the amount outstanding, including a Wonder of Wool event at Smeale Farm and sums generously donated as organisations have wound up.
There is now an adult and a junior chair based at the Cosy Nook pop-up in Port Erin, close to the popular beach huts.
The wheelchairs mean that more people can access the beach and reach the beach huts to enjoy a lovely day out.
Last year, yet another Biosphere Partner, Foraging Vintners, kindly provided storage for the adult chair.
Port Erin Commissioners has now built huts to store the chairs in. They have been amazingly supportive. The sheds will be located on the beach in front of the wall next to the Cosy Nook. 
Cath, of Port Erin Beach Huts, has offered to paint these huts in Disability Networks colours as a donation. Naturally, we are delighted and have accepted.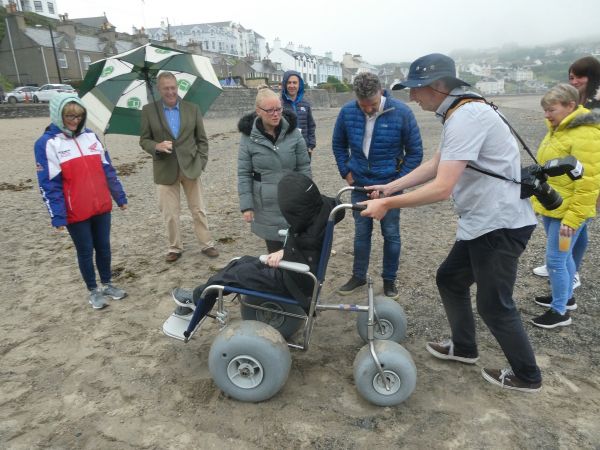 The launch went smoothly and everyone who accepted invites attended with smiles and good humour, despite the gentle rain.
We are grateful to all those who turned up including Martin Greenwood from Zurich, but especially to Dylan after a busy week at school and his mum Lisa Walton with other super-supportive members of his family who helped Dylan try out the chair. They were impressed enough to make a booking.
Customers will be given an access number when they book the chair and this means that the chair is not restricted to opening times.
The service is now up and running. You can book a slot by ringing the Commissioners on telephone 832298.
Clerk Jason Roberts is designing an online booking system to make things even easier for those with internet access.
The service is seasonal in Port Erin but all year round from Outdoors Ramsey on the South Promenade.
Ring 819082 to book the Ramsey adult chair or drop in during the summer when the chair is stored in the shop itself. The service is available to those with temporary disability as well as long-term disability.
The adult chairs have a fishing line holder and a drink's holder. The child's chair has a drink's holder. All have a foot rest that swings out of the way. None have a full harness, only a waist strap.
Thank you so much to everyone who has got involved and has brought a little light into the lives of others.
For more information about terms and conditions of use such as weight restrictions, click here.
Posted up on 24th July 2022