AFD Group, which operates the Mountain View Innovation Centre in Lezayre and won the 2019 UNESCO Biosphere Isle of Man Award for Environment, has further invested in renewable technologies and will share its expertise at an event this month.
The company installed a huge solar array on the roof of its large studio building in 2018.
Now, three further arrays have been added, almost doubling green energy production and cementing the site as the largest solar electricity generator on the Isle of Man.
David Dorricott, Managing Director, said: 'The first phase of our solar system has far exceeded our expectations and has beaten the financial and generation predictions, so instead of pay-back in eight years, we're now expecting this to be just six and a half years. To date, the original 234 solar panel array has generated over £25,000 worth of green power.
'Some of that power charges our fleet of 12 electric vehicles, used by AFD team members under our staff electric vehicle scheme, making for some of the greenest motoring on the planet.'
The new arrays consist of 194 JA Solar Smart Modules, each capable of generating 320 Watts and therefore providing an additional potential generation of 62,080 Watts of energy – making a total for the Mountain View site of 126,430 Watts. To put it into context, this energy would power 32 average homes for a whole year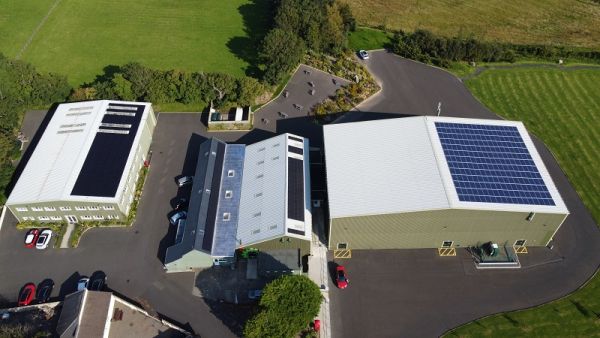 Each module is complete with embedded smart optimisation, providing individual monitoring across the array to ensure maximum energy harvest is achieved throughout the long lifespan of the system. 
The electricity generated is distributed across the Mountain View site – with surplus then fed into the Manx national grid.  Real-time views of the solar system's performance can be seen from the link on www.mvic.im
As with phase one, the design and installation of the system was undertaken by solar energy specialists Manx Solar Electrical.
The new combined system often generates 600 kWh per day, adding to the 60,000kg of Co2 emissions saved by the system so far; the equivalent of planting nearly 1900 trees.
Martin Coyle, of Manx Solar Electrical, said: 'We are delighted to have worked with the Mountain View team to make these significant and productive investments in technologies that really do deliver measurable, economically and environmentally robust benefits.'
The solar power generation has led to the business using the slogan 'Powered by the Sun at Mountain View' on their electric fleet and charging points.

To find out more about the project, join David Dorricott, Martin Coyle and Jonathan Sutherland, Group Properties Manager for AFD Group, as they share their experiences in the launch event of Mountain View's second series of its popular 'Tech Talks'.
'Free Green Energy? – The Mountain View Solar Journey' is free to attend and Babbage's Bistro will be open beforehand for those wishing to purchase a bite to eat or refreshments before the talk – ideal for those coming straight from work
Book a place here or via the event listing on Mountain View Innovation Centre's facebook page.
Posted up on 26th August 2020