Jacqui Keenan, Manx Blue Carbon Project lead for the Isle of Man Government, wades into the wonderful world of blue carbon and tells us about its possibilities.
Imagine yourself by the sea – what are you doing?
You may be basking in the sun on a warm summer day in Peel, enjoying a cool ice cream while children play in the sand.
Perhaps you're scrambling over rocks at Fleshwick, leaping into the brisk, steel-blue water with a gasp, as the cold hits your chest and covers your head.
For me, I'm taken to Marine Drive - high above the water on a stormy day, watching the Ben-my-Chree see-saw its way into harbour as the wind whips my hair and the grey waves crash relentlessly on the cliffs below.
Whatever you're doing by the sea, the chances are you're not giving too much thought to what's happening below the surface of the water. While we may occasionally be reminded of the underwater world – dipping below the waves with a mask and snorkel, savouring a delicious dish of queenies, or watching seemingly alien creatures in a documentary - life in the sea goes on largely unnoticed.
So how do we find out what's below the surface of the water, and why does it matter? These are the questions we're answering on the Manx Blue Carbon Project, which I run alongside magnificent Manx marine scientist Rowan Henthorn. Launched in February 2022, we're finding out how working with the sea can help the Isle of Man become a carbon-neutral nation.
The term 'blue carbon' describes the incredible creatures and places in the sea that naturally lock carbon away for anything from a few months to thousands of years. Seagrass, seaweed, reefs of shellfish, beds of hard, pink algae, all absorb carbon from both the water they live in and what they eat. When they die, their tissues and the carbon they contain are buried in the sea bed, often forming thick layers of marine mud, and stay there for as long as it's not disturbed.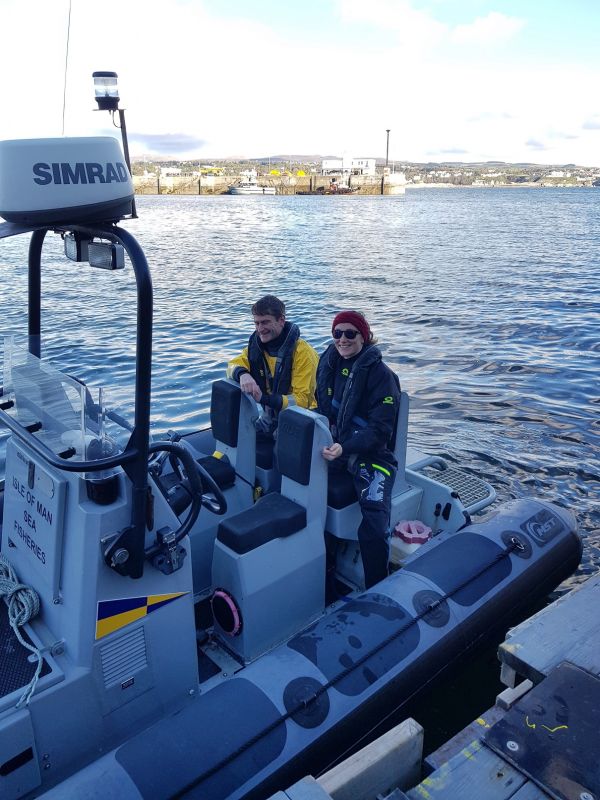 Dr James Strong and Hannah Muir 
As well as capturing and storing carbon, these underwater communities support sustainable fisheries, prevent coastal erosion and storm damage, make our water and air cleaner, and are generally part of a healthy and thriving sea. If we look after these creatures and the places they live it's a win-win-win – for people, the sea, and the climate.
Earlier in 2022, along with our research partners from the National Oceanography Centre (NOC) in Southampton and Swansea University, we collected samples of the seabed from around the coast and further offshore. PhD researcher Hannah Muir from Swansea University is now busy analysing these samples to find out how much carbon they contain and how quickly it's being locked away – a process which can take up to a month per sample! Initial findings are promising, confirming that Manx blue carbon systems hold similar amounts of carbon to the same habitats elsewhere in the UK, and showing that there is potential to improve the amount of carbon stored in the sea.
In September 2022, Hannah visited the island with Dr James Strong from NOC, to find out exactly where some of our key blue carbon is, in the form of seagrass and kelp. Using images from above the water (taking aerial photos with a drone,) and below (using sonar to build an image of the sea bed), along with vital information from Manx Wildlife Trust through their Seasearch dives, Hannah and James are starting to create a blue carbon 'map' for the island – beginning with potential hot spots along the east coast from Gansey up to Ramsey.
This map, combined with the information about carbon content, will build a detailed picture of the Isle of Man's blue carbon – where it is, how much carbon it stores, and how quickly carbon is locked away. We'll use this to create a plan to look after the Isle of Man's blue carbon stores, working with experts from fishing and fisheries management, finance and business, conservation, seabed management, and research.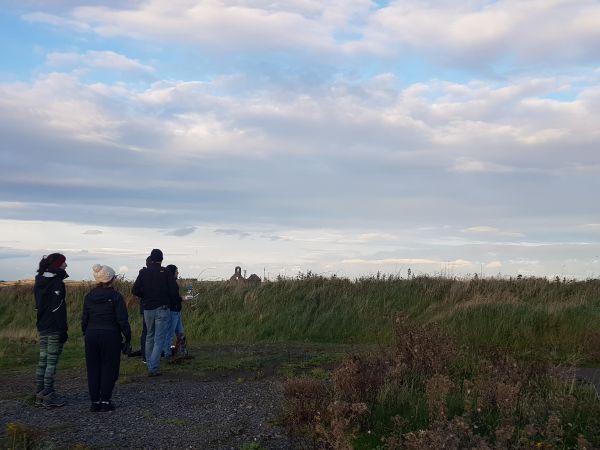 Keep up to date with the Manx Blue Carbon Project through the Biosphere Isle of Man and Net Zero Isle of Man newsletters and social media.
Posted up on 19th November 2022