UNESCO Biosphere Isle of Man is celebrating The Manx Lobster, a local fish producer based in Port St Mary, which is passionate about fresh crab and lobster, and which has landed as the 350th Biosphere Partner.
The Biosphere Partnership scheme encourages businesses and organisations to sign up and join a growing network organisations that have pledged to adopt sustainable practices and encompass Biosphere Isle of Man's wider values.
The Manx Lobster is run by Port St Mary couple Michael Keig and Tracey Goldthorpe, who are passionate about their produce and strive to supply the freshest seafood, sourced sustainably through their fishing methods.
Michael fishes from Port St Mary in his boat Vervain, and catches only in the waters between Castletown and Port Erin. He conducts a circular method of fishing, processing and supplying as the catch is processed just 500 meters from where it is landed.
Breeshey Kermode, UNESCO Biosphere Isle of Man Project Assistant, met with The Manx Lobster at The Crab House on the Alfred Pier to present its certificate.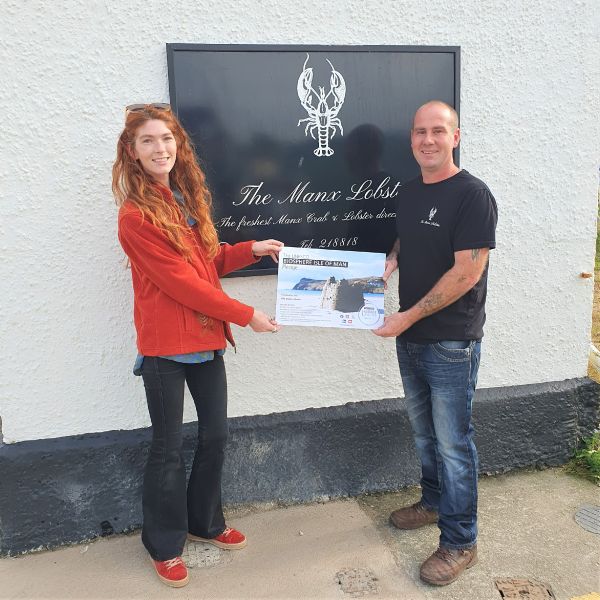 Breeshey Kermode presents Michael Keig with The Manx Lobster's Partnership certificate
Breeshey said: 'Small businesses are key to our Biosphere as they foster local economy, support our communities and often preserve specialist skills and trades which are rooted in Manx culture.
'It is a pleasure to welcome The Manx Lobster as our 350th Partner. Michael and Tracey are really passionate people who embody the holistic and circular business model that Biosphere encourages, while having the utmost respect for the sea and its inhabitants.'
Michael and Tracey said: 'We were over the moon to learn we were the 350th Biosphere Partner. Doing things differently has been important to us from day one and we are pleased that our efforts have been recognised.
'When you really care about something, you never want it to go away and so we strive do things in a way that means everyone is a winner.'
The Manx Lobster take orders through its website, or you can pop down to one of its Saturday shops at The Crab House in Port St Mary.
For more information about its products and how to get hold of them, visit The Manx Lobster.
You can read The Manx Lobster's full Partnership entry on the Biosphere Isle of Man website.
Posted up on 28th September 2023