Dr Ken Milne, Director of Energy Policy for the Isle of Man Government, has installed an air source heating pump at his home, benefiting the planet and his pocket. He tells us about it:
My gas boiler had served my home well for over 15 years. However, as winter approached it started making strange rattling sounds and refused to start on occasions in the morning. Therefore, it was time to replace the boiler and I looked at my available options.
The easiest option was to replace with a modern condensing gas boiler with an efficiency of 95% and continue to annually emit over two tonnes of carbon to heat my home.
Alternatively, I decided to look at the use of renewable technologies to lower my carbon footprint and therefore investigated the possibility of installing an air source heat pump (ASHP) in my home.
ASHPs work similar to a refrigerator. They absorb heat from the outside air and transfer it to heat radiators, underfloor heating systems and hot water in homes. An ASHP can extract heat from the outside air even at temperatures down to -20°C, although they work best above 0°C. ASHPs have an efficiency of around 300% (ie, every one unit of electricity used produces around three units of heat). In my home, using grid electricity (generated from natural gas) I estimated it will reduce my carbon emissions by up to 25% and lower my energy bills by up to 50%.
For best results and highest energy savings, the house should be well-insulated. My house was constructed in 2005 so had reasonable insulation which I further supplemented by installing additional loft insulation when I moved in. I also undertook an air tightness test on my property, which allowed me to draft-proof my home and further reduce unnecessary heat loss. There also needs to be sufficient space for the outside ASHP unit and the accompanying large indoor water tank. Therefore, ASHPs are not suitable for all homes.
Other factors to consider are the higher costs to purchase an ASHP. In my home the ASHP cost an additional £10k more than replacing with a gas boiler. I was fortunate that Manx Utilities was running a trial which allowed me to spread the additional cost over 10 years, making the payments affordable.
Furthermore, my annual energy bill savings to heat my home should cover most of the additional cost for the ASHP. Energy bills since installation are almost £200 lower than in the comparable period in 2019.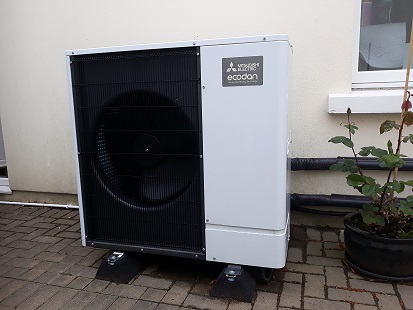 When I installed my ASHP, it was necessary to obtain planning permission, although in the future I expect ASHP installations to be a permitted development, similar to the UK.
We installed our heat pump in January, which I would not recommend as we had to go without central heating for two nights while the old gas boiler was removed and the new ASHP and water tank was installed.
But it was worth it when we came home on the first evening after the installation to a warm house that is affordable to heat.
No longer do I have fluctuations in the temperature in the house depending if the boiler is on or off. Now, every day, the house is a comfortable 18-19oC throughout the day and night. Even my wife is happy!
Main photo:
UK Government officials Sue Harrison and Bethan Ellis viewing the ASHP installed at Dr Milne's home
Posted up on 12th May 2020