The first trees have this month been planted in the Isle of Man's People's Wood.
A 113-acre site at Meary Veg, Santon, will eventually be home to 85,000 trees: a variety of broadleaved trees which will include Alder, Aspen, Beech, Blackthorn, Crab Apple, Birch, Oak, Sycamore, Hazel, Mountain Ash, Poplar ,Oak, Field Maple, Gean and Whitebeam. 
Conifers (Sitka Spruce and Scots Pine) will be planted sporadically throughout the area to add texture and diversity to the planting and act as a nurse species to the broadleaves.
It's envisaged that the Sitka Spruce trees will be removed at a later date when canopy closure has been achieved.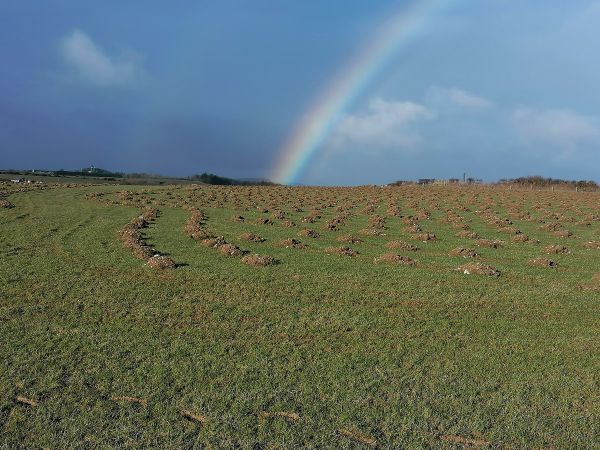 The creation of the People's Wood was announced by Chief Minister Howard Quayle MHK, chair of UNESCO Biosphere Isle of Man, in 2019.
It is part of the Isle of Man's response to the climate change emergency, and the trees will help offset the Island's carbon emissions.
Preparatory work on the site has included fencing and fields have all been mounded by a local contractor in readiness for tree planting.
A series of paths has been incorporated in to the design and a route that gently meanders through the area will link in to the existing public footpath and the Raad-ny-Foillan coastal footpath.
Selected viewpoints towards the Langness penisular and Castletown will be maintained and seating will be installed to allow people be relax among the trees.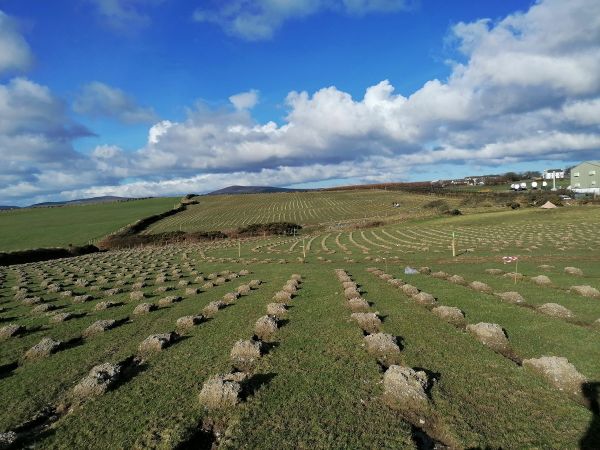 The wood will be an amenity for everyone to enjoy once work is complete, although it will take years to mature.
The Chief Minister and Geoffrey Boot MHK, Environment Minister, were among the first to plant trees this month.
The Chief Minister said: 'I look forward to watching the woodland develop overtime into another wonderful amenity for our Island.
'As these trees grow they will protect and enhance our beautiful Biosphere, boost natural carbon storage and benefit people and wildlife for generations to come.'
Minister Boot said: ''The diverse habitat created can play a crucial role in combating the biodiversity and climate crisis the world is facing.
'It will provide important habitat for insects, birds and mammals, enhance and protect the environment, and create a place people can visit to boost their well-being.'
Further planting will be completed by local groups, by Barclays Bank, which sponsored the purchase of the trees, and by local contractors.
Posted up on 12th February 2021