Phil Payne is a skilled and experienced horticulturalist with a passion for plants and historic gardens. 
He is part of the Properties Management Team at Manx National Heritage, where he manages planting schemes at the Isle of Man's national heritage sites.  Phil is responsible for ensuring history, archaeology, ecology and design are conserved and presented at gardens including Rushen Abbey, The Grove Museum, Castle Rushen's Speaker's Garden and Cregneash, where the gardens offer a stunning visual display.
Phil works alongside a dedicated team of volunteers and Cregneash Head Gardener Karen Griffiths, enjoying the beauty of the MNH gardens all year round.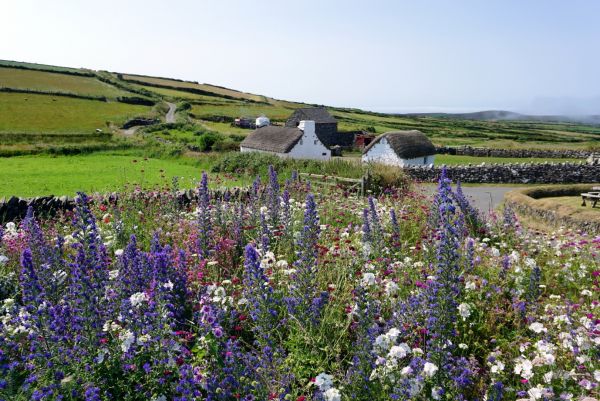 View over the sown perennials to Harry Kelly's Cottage, Cregneash, July 2021
This month, Phil talks to UNESCO Biosphere Isle of Man about naturalistic planting design, a low maintenance style of gardening with a long season of interest.
In this style of gardening, ecological and biodiversity quality take precedence over horticultural standards and trends for clean cut garden spaces. 
Naturalistic planting is about setting aside our desire for formal garden spaces, instead working in partnership with nature, Phil explains. This style of gardening requires no staking, chemicals or fertilisers, with the added benefit of minimum weeding with just an annual cut in the winter, all this while providing food, shelter and nesting sites for a wide range of wildlife. 
The results are a rich, often breathtakingly beautiful garden display throughout the year.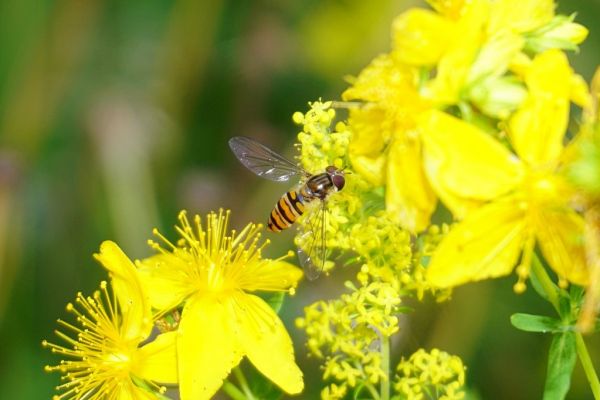 Lady's Bedstraw, St John's Wort and Hoverfly, Rushen Abbey, July 2021
Flowering can occur starting early April through until October, with planting using native species or more typical garden plants and the planting adapted to any sized garden in sun or shade.
It is a low input, high impact planting style, both in terms of benefits to wildlife and visual beauty. Manure or compost are not added to the soil. Instead, plants are chosen to work with the conditions that are naturally present on site.
This form of garden design has been around in one form or another since Irishman William Robinson first published his revolutionary book 'The Wild Garden' more than 150 years ago. 
Following in the footsteps of Robinson, naturalistic planting has been adopted at Rushen Abbey, where Phil and his volunteer team have been hard at work creating a stunning naturalistic garden. 
A wide variety of compatible species were planted together, allowing the plant community to self-adapt to varying site conditions; the plants can spread themselves into their preferred location within the planting.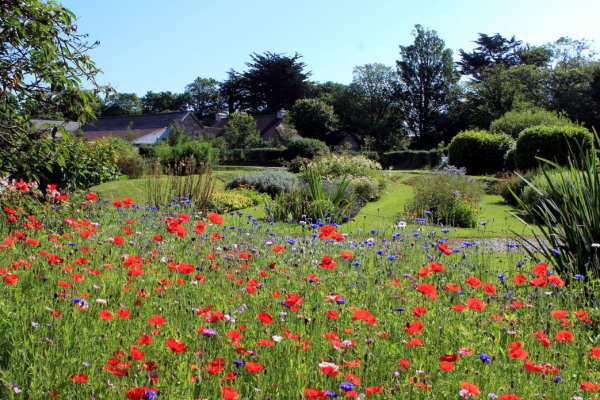 Rushen Abbey annual wildlflower meadow
The planting is layered, starting with short growing, shade tolerant spring flowering species. Taller species are selected for summer and autumn; each progressive layer submerging the earlier flowering species. The high planting density also reduces opportunities for weed invasion.
Interested in finding out more?
Download the MNH Guide to Naturalistic Planting.
Watch Phil on YouTube as he talks you through naturalistic planting.
Posted up on 19th November 2021