The winter term of 2019/20 has seen Ballakermeen High School's 1700 students becoming even more determined than ever to take action around improving our environment. The Student Council explains more:
Our school community is housed within a rather draughty building, situated right in the heart of the community, and, as our numbers continue to grow, it becomes increasingly important to find ways of minimising our environmental impact and making school life more sustainable – a bit like the world as a whole, really.
In recent years, the school has taken a number of  steps such as recycling a large amount of its waste paper and plastic and we have also taken part in local beach cleaning in partnership with the Island's Beach Buddies.
We have introduced our own branded, reusable, water bottles and taken swift action on reducing the sale of plastic bottles from the school's canteen. We all use the water fountains now.
We have also successfully campaigned to replace our polystyrene catering boxes and single-use plastic cutlery with biodegradable alternatives.
It's wonderful that our students have agreed to absorb the extra cost of these materials in the knowledge that they are contributing to a more sustainable future.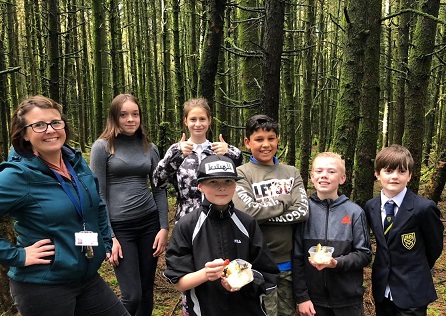 Some of our learners also work on an allotment and learn more about how to grow a wide range of plants and vegetables. They're so fresh! 
We have five houses at Ballakermeen and every learner is a member of a house. We have house assemblies each week where we learn about the United Nations' 17 Sustainable Development Goals and the part we all have to play in realising those goals by the target year of 2030.
Each house sponsors a child's education in a foreign country (through Action Aid) and our students organise fund-raising activities to raise the money we need. Cake sales are our favourite!
We really enjoy hearing from our young person abroad and it's great to see how they're getting on at school, although our lives are very different. 
Our Student Council meets most weeks and we have some learners who are currently completing an environmental survey as a first step towards achieving Green Flag status for our school.
The survey is helping us to find out about aspects of Ballakermeen that might have an impact on the environment, such as the school's energy use and whether or not our canteen uses local produce from sustainable sources.
We have recently launched an appeal to local businesses to see if they would sponsor bird boxes for our school grounds.
One of the questions within the review was all about wildlife within the school grounds. We think it's something that we can work on, as well as reducing the amount of litter.  
It's a bit wet, cold and dark at the moment but something we're all looking forward to is getting more involved in active travel to and from school.
Most of us travel by bus but, when spring finally comes, we might have better weather, which means we can begin to think about cycling to school and using our new bike sheds.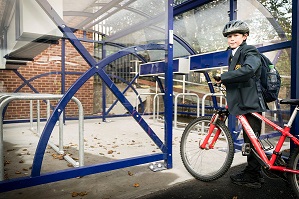 So, as you can see, Ballakermeen has been very busy and we intend to keep working towards safeguarding our wonderful environment on the Isle of Man. We hope you have too. We'll keep you posted.
Posted up on 6th February 2020