The next in a series of webinars presented by the Isle of Man, Kerry and Dublin Bay Biospheres will explore the topic of 'Old Ways in New Days'.
The webinar will be hosted by Kerry Biosphere and presented by Shane Lehane, who appears regularly on Irish TV station RTE and writes for the Irish Times.
Shane is an archaeologist, folklorist and historian and an advocate of Irish vernacular craft. He is Director of Cultural and Heritage Studies at Coláiste Stiofáin Naofa, Cork.
The webinar takes place on Tuesday 16th February from 12 noon to 1.30pm and is free to attend.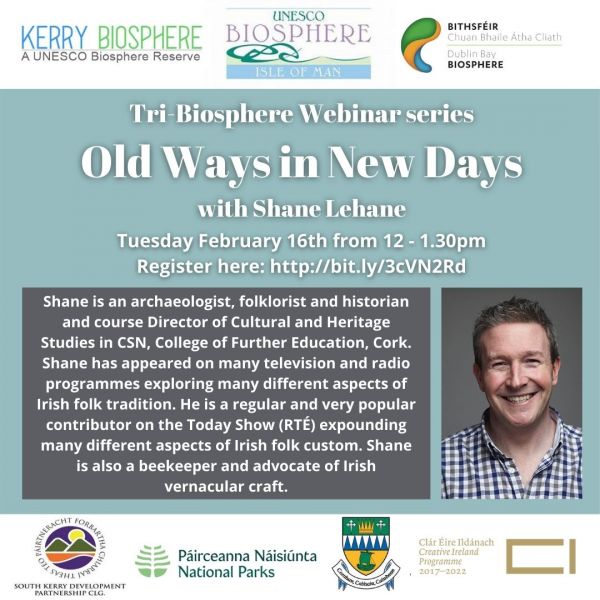 Register via http://bit.ly/3cVN2Rd
Jo Overty, UNESCO Biosphere Isle of Man Project Officer, said: 'The way we lived our lives in the past and the traditions and cultures we observed very much shapes us now.
'One of the roles of Biospheres is to promote and preserve our culture and heritage.
'This promises to be a fascinating webinar and, as we grow our friendships with our neighbours in the Irish Biospheres, I hope people will attend.'
The year-long webinar series marks the 50th anniversary of the UNESCO Man and the Biosphere Programme. 
Posted up on 7th February 2021