Douglas Borough Librarian Jan Macartney is September's guest author in the #MyBiosphere series that features in Business 365 magazine, published by Mannin Media:
My love for the Isle of Man began on 29th June 2003 as we sailed into Douglas on the Ben-my-Chree.
We hadn't even set foot on land and I was already hooked!
The weather was beautiful and the excitement built as we stood on deck watching the island come into view.  I don't know how we managed it but the weather held all week so Manannan must have known we were only here for a few days. And it was our honeymoon, too!
Originating from God's Own Country (Yorkshire), my husband and I were brought up with rolling hills, vast stretches of unspoiled countryside, beautiful coastline and a warm welcome but we were, nevertheless, blown away by the diversity of such a small island offering wonderful walks, beautiful unspoilt beaches, glorious glens, peaceful plantations, cosy cafes, fascinating history, total tranquillity, delicious Manx produce, quirky transport systems and unique sporting events and wildlife… not bad for an Island only 33 miles long by 13 miles wide.
We were lucky enough to stay in Sulby Glen, a fantastic base for a week of exploring all the Island has to offer.
My husband delighted in taking us down roads which, quite frankly, had me panicking that had we met someone coming the other way, we were sure to be completely stuck as passing places were not in abundance.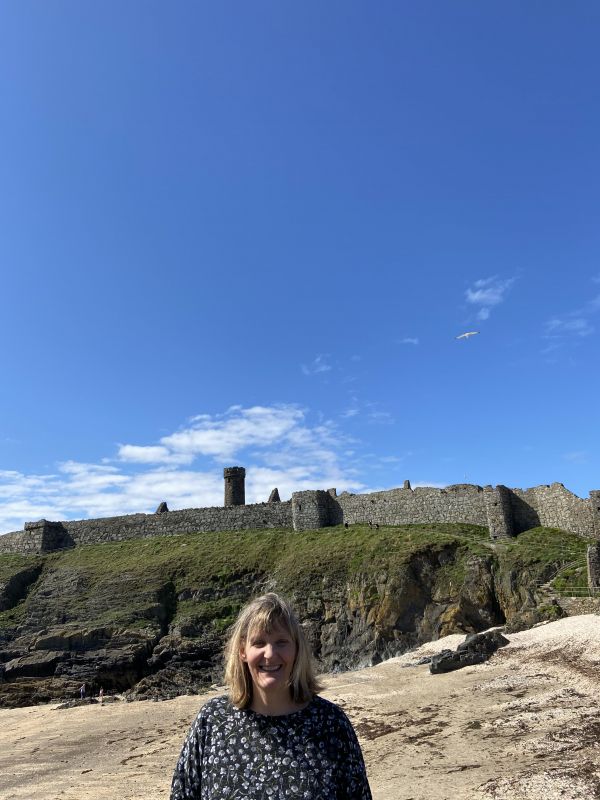 Jan Macartney at Fenella beach
But, boy were those scary few minutes worth it when we reached the end of the road to find spectacular beaches, set in breathtaking landscapes, with only the gulls for company.
We explored the Island from top to bottom and east to west and, on our final day, walking through Mooragh Park, my husband turned to me and said 'I could live here' – something he had never said anywhere before during our many lovely holidays, both home and abroad.
How prophetic that a couple of years later, I spotted an advert for the post of Borough Librarian of Douglas and the rest, as they say, is history.
Years later, I still delight in having the sea on my doorstep, fresh clean air to breathe and both civilisation and solitude a short walk away from home; things I never take for granted.
The sense of community and feeling safe cannot be underestimated in a world that is becoming increasingly volatile and unstable.
When friends and family come to visit, I proudly take them to Fenella beach, where, as a family, we spent endless hours playing on the sand, making mountains with shells, paddling in the sea and doing battle with the gulls when we were hungry.
We savour the delights of the rich culture and heritage of an Island so proud, and rightly so, of not only its enthralling history but its recent accolade of becoming the only entire nation to have UNESCO Biosphere status. This basically tells anyone thinking of coming to the Island, to live, work, or holiday, that they are in for an absolute treat.
We never envisaged living anywhere other than Yorkshire but making a permanent move to the Island in 2005 was the best decision we made for our family and it's a privilege to call it home.
Posted up on 31st August 2020