Isle of Man businesses have the opportunity to learn about adopting sustainable practices via a webinar being presented by a global expert.
Richard Threlfall heads KPMG's Impact programme.
The programme links professionals from across the world to deliver expertise on the biggest issues facing the planet.
Richard will speak about sustainability, climate change and the implications for businesses.
It's part of a series of webinars for businesses hosted by UNESCO Biosphere Isle of Man.
Geoffrey Boot MHK, Minister for Environment, Food and Agriculture, said: 'The Isle of Man's Biosphere status encourages us all to work together for a sustainable future.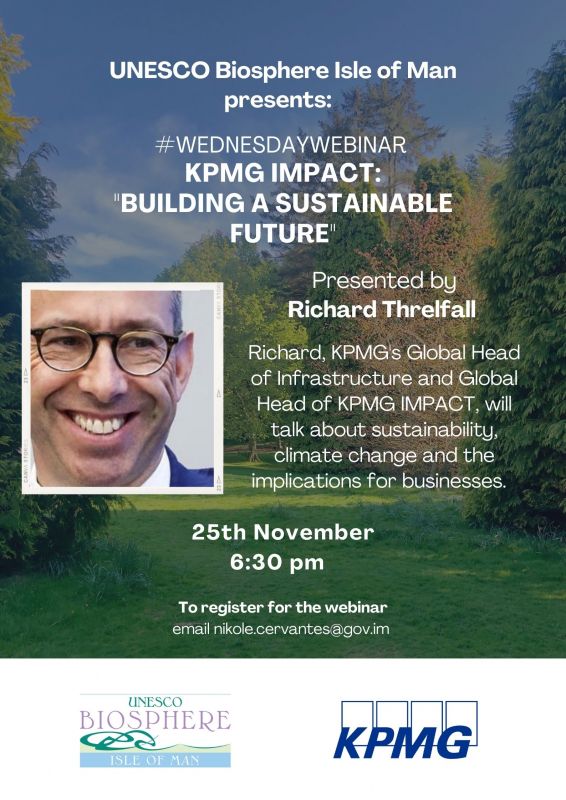 'Business can make a positive difference in this area and we are pleased to have secured such a knowledgeable speaker on the topic.'
Simon Nicholas, Partner at KPMG in the Isle of Man, said: 'As a Business Partner of UNESCO Isle of Man, we wanted to help where we could, so we are very happy to support the UNESCO team with their webinar. I am sure the insights and expertise offered by Richard will prove useful and informative for anyone looking to understand and develop sustainable solutions for their business.'
The webinar takes place on Zoom on Wednesday 25th November at 6.30pm.
To sign up free, email Nikole.Cervantes@gov.im
Posted up on 16th November 2020