Newly retired librarian Sally Hardman is guest author in the #MyBiosphere series that features in Business 365 magazine, published by Mannin Media:
The first time I came to the Isle of Man was in 1981, on a budget coach/boat/b&b holiday. My old photos show a beautiful isle with wonderful scenery and wide open spaces.
Little did I know that I would make my home here in 1987, with the husband I met in Jersey.
Having grown up in Guernsey, too, I am an island girl through and through, and never happier than when I can spend time by the sea. The sound, smell and sight of it lift my spirits every time.
The Isle of Man has been a perfect place to both work and raise a family, with short daily commutes, a landscape of outstanding beauty and a community that is the heart of Island life.
Our children went to the village playgroup, primary school and on to secondary school with friends they had known since birth and have a loyalty to their Island home that followed them to university, and back, with one still across following a career that was seeded in our Island's wonderful museums and outdoor archaeological sites.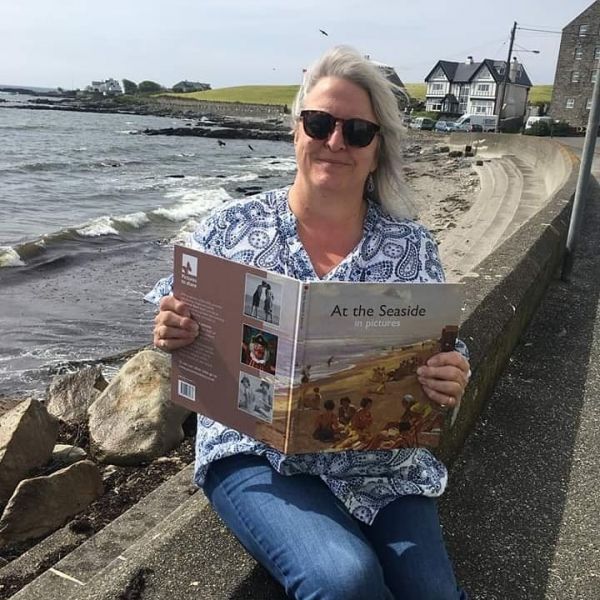 One of the greatest benefits of Manx life is how close we are to the great outdoors.
Just go out of the door and soon you're away from the traffic. While not great trekkers or climbers, during lockdowns we've made the most of what we could access close to home and, then, further afield.  
A favourite walk is along Gansey and up to the ancient site of Balladoole, with its panoramic outlook and sense of peace. Holidaying at home last year meant discovering new walks, both coastal and inland. There's always somewhere new to find, even after 33 years, and there's a plethora of good, local, walking books to refer to.
I've been so lucky to have had almost 20 years working with what I love most – books and people – in the Mobile Library, now managing a service that not only serves our Island community but is a great way to be out and about.
From Bride to Cregneash, and Laxey to Dalby, we meet great people and see the most amazing views. We experience the power and wonder of the seasons, in all weathers, and the breath-taking scenery of land and sea.
Having to work from home during 2020's lockdown gave us an opportunity to truly appreciate our life on the Isle of Man. Those, long , sunshine-filled days allowed us to sit and take a breath, and the lack of road and air traffic meant birdsong filling the clearer air, especially in the early hours of the day.
Social distancing was easier, with so many places of natural beauty to escape to, and the community was invested not only in keeping itself safe, but supporting each other by using local suppliers, offering support and assistance or donating to help others.
This is the way of the Manx.
Quocunque Jeceris Stabit. Whichever way you throw us, we will stand. And we'll do it together.
Sally Hardman was, until her retirement this month, Manager Librarian of the Mobile Library.
Posted up on 15th May 2021