Debra Tracey-Carney, of Biosphere partner Isle Be Creative, is November's guest author of the #MyBiosphere series in Business 365 magazine, published by Mannin Media.
The first time I set foot on the Isle of Man I thought - no, I FELT - 'this is my soul home'.
Hospice Isle of Man cared for my mum until she died, so I was grateful to be chosen by the Isle of Man Arts Council to create one of their wallabies for the Wallabies Gone Wild Hospice fundraiser.
Simon and Kate Maddrell very kindly gave me the use of a space at Grenaby Studios to work on Archie Knots, which took a month to create. As he raised £19,300, it was so worth it.
Based at the studios, I create fused glass and mosaics inspired by the Island.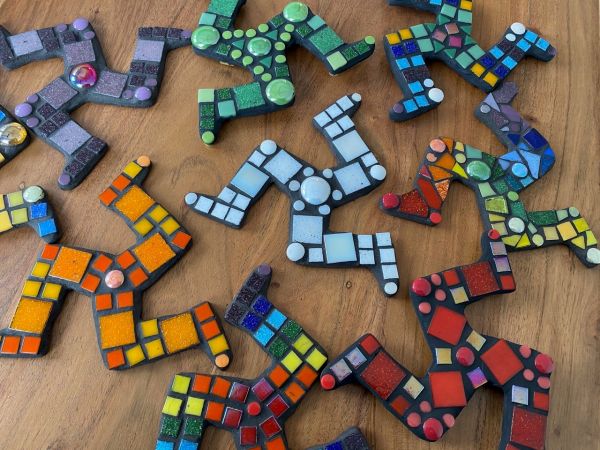 Everywhere I look, there is beauty. Being born and bred in a city, I feel so lucky to now live under a 'big sky' and to be surrounded by wonderful artist friends at Grenaby, where it is light and green, with an almost 'healing' vibe.
My latest community project, at The Hub in Port Erin (another Biosphere Partner), is a silk banner design inspired by marine life. The best research resources (apart from donning a snorkel and wetsuit) were the Manx Wildlife Trust and Biosphere IOM websites.
My glass wrens and robins practically fly out and I'm adding to the designs all the time. The silk painting project has got me itching to create jellyfish with recycled glass. It's really important to me that everything I do links to the Island. We only have one world and I feel so protective of it - but particularly of this stunning section of it.
My desire to help those stuck at home during lockdown (plus finding it difficult to remember what day of the week it was myself) gave me the idea of offering a weekly live Facebook video.
I wanted to do something that was accessible to all.
I was already sending out mosaic kits for a community project, funded by Culture Vannin for the #Treisht2020 project, using wooden knives instead of plastic scrapers, biodegradable bags etc, but I wanted something that people could do without having to buy anything, using what they would have at home.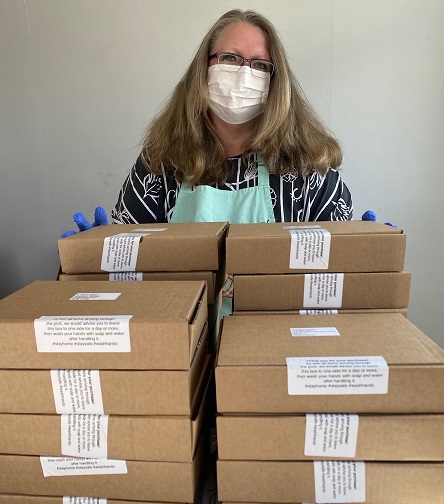 Inspired by Jill Heyes' work, I delivered Time for Tea at 2 on Tuesdays. For 8 weeks, I shared various things you could create using used tea bags - including a mobile, lamp and a pendant.
There is still the opportunity to get involved in an art exhibition using tea bags so please get in touch.
Further research showed that some tea bags have plastic in them. I'm on a mission to educate people about that.
My husband and I have recently become the proud 'parents' of a puppy. I'm slightly obsessed with taking her photo, then realised I was sharing her photos on my business Instagram. So I decided to give her her own page: @poppytheManxpoodle
When people who have never been here praise the beauty of our dog and the scenery, I almost burst with pride, both for Poppy and MY Island.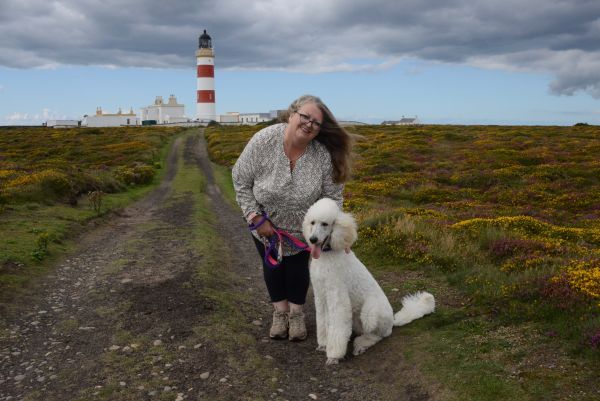 Debra Tracey-Carney is an artist, educator, facilitator and writer and founder of Isle Be Creative.
Outdoor photos: Mike Carney Photography
Posted up on 2nd November 2020