Historian and genealogist Nigel Crowe is the 2022 recipient of Culture Vannin's Reih Bleeaney Vanannan (Manannan's Choice of the Year) award. He explains the rich potential the Manx countryside, towns and villages offer for discovering much more about the Island's culture and history.
Retired from a career as a chartered surveyor and estate agent, Nigel has had more opportunities than most to get to know his native Island as an insider.
'I was incredibly lucky to grow up in the beautiful Baldwin Valley,' he says. 'Not just the physical landscape but many other aspects of the Manx way of life I was steeped in, growing up there.'
Kinship and friendship ties stretched invisibly around the Island, linking long established family lines.
'We tended to be involved in the nut and bolts of the various activities, rather than just participating or looking on, Nigel recalls.
Life centred around the family farm at Ballachrink, where Nigel's father, Kenyon Crowe, had come from Kirk Michael to work for his uncle Eddie Quine in 1938.
Nigel's brother and his family continue the long farming tradition in Baldwin which dates back at least 250 years on the same land.  
Local and Island politics, the Methodist chapels, music and the annual highlight – The Guild (Manx Music Festival) were all priorities for the family.
'On the farming side, Dad was heavily committed with the farmers' club and the Royal Manx Show, and our generation also got involved with the young farmers clubs.' Nigel recounted.
Two of Eddie Quine's sisters, Amy and Isabel, were interested in Manx history and began Nigel's collection of Manx books. They told their young relation of local traditions and about the families that lived in Baldwin, as well as enthusing him in Manx studies generally.
One result of this was that he organised a successful team for the Brain of Man competition while still at Braddan School.
Nigel's former history teacher Robert Curphey, a pillar of the Isle of Man Natural History and Antiquarian Society, got Nigel involved in helping to run the society, initially as its excursion secretary.
In 1973 his grandmother Amy passed on a letter from American relations which triggered Nigel's long-term involvement with Manx genealogy at an unusually young age. In due course he was one of the founder members of the Isle of Man Family History Society.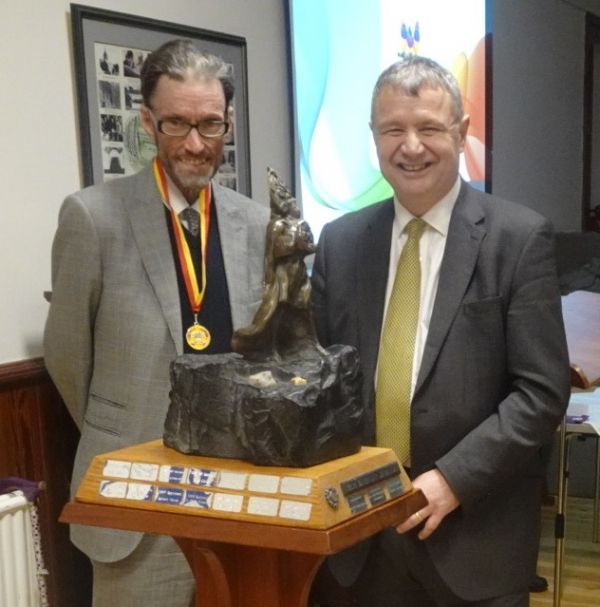 Nigel Crowe (left) receives the Reih Bleeaney Vanannan award from Chris Thomas MHK, Chair of Culture Vannin (photo by W.J. Kaighin)
Nigel's first job after leaving Douglas High School was in the Local Government Board's planning department. His administrative duties involved aspects of land use, properties, development plans and the first registration of buildings.
Realising he wanted to specialise in the technical side, the next stop was Reading University for a BSc in land and property, followed by a job with the Inland Revenue's valuation office.
Before long, Nigel was also pursing a growing fascination with Manx historical buildings and topography.
Nigel returned at an early opportunity to the Island with his new wife, Christine, to work in the private sector and complete his qualification as a chartered surveyor. His professional duties included mortgage valuation and commercial agency, which took him all over the Island.
His deepening interest aroused questions on the evolution of the Manx scene. In his search for answers, he found a field of knowledge littered with inconsistencies; an over reliance upon secondary sources, some far-fetched etymologies and beset with dead ends.  
In 2001 Nigel published his historical survey of Douglas in 1705, the fruits of 20 years of detailed topographical reconstruction. Through this study he discovered evidence suggesting the town had agricultural roots which raised a new set of questions on wider landscape issues. A more formal systematic academic study was needed, in a wider British Isles context.
In 1994, respected landscape historian professor Robert A. Dodgshon had pointed out:
'The available or extant research on landscape…does not provide a sufficiently comprehensive or coherent picture of how the Manx landscape has evolved so that it is not yet possible to attach a definitive meaning or value to what has survived.'
The professor suggested Nigel continue with postgraduate research at Exeter University, where there was an active school of historic landscape studies. Following up this suggestion Nigel joined the masters programme on a part time distance basis.
In the Island's case the absence of documentary evidence pre 1500s makes the landscape itself the primary source of information. William H. Hoskins, the pioneer of the discipline, said the landscapes were more than just scenery. He sought a code to decipher it.
Nigel is finalising his interdisciplinary study for publication. He hopes this will overcome some of the existing inconsistencies, using the landscape as a new primary source, following new directions of investigation to provide a coherent account of the evolution of Manx scene, enabling further investigations to improve our understanding of our culture and history.
Posted up on 12th March 2022