A community children's gardening initiative is also growing friendships and knowledge. Its co-ordinator, Jane Glover, tells us all about it:
GRIN - Garden, Recharge, Inspire, Nourish - is a garden club based at Arbory School in the village of Ballabeg.
The group was founded by Lucy Chapman in 2018 and was initially aimed at parents and carers of pre-school children. 
Young children are encouraged to join in where they can but first and foremost develop a connection with nature, their Island and food supply through play in a fun and social environment. 
Lucy's passion and enthusiasm attracted members who are experienced gardeners and have worked with children before. They began to help to plan and run sessions and design the garden. It rapidly flourished and 'grew'. Lucy's vision started to become a reality.
Sue-Lardener Burke soon joined the team. Her previous experience working with youngsters was a key part in helping the group develop. Experienced garden professional and young mother Natasha Light joined the ranks of volunteers and her in-depth knowledge of plants and an eye for garden design took the group to another level. 
Latterly, Jenny Turner, another experienced gardener, joined during lockdown and keeps us plied with coffee, boundless energy and positivity.
My family attended Arbory School and I am a passionate gardener and love sharing knowledge and experience. I am Chair of Arbory and Rushen Commissioners and, when I saw what Lucy was doing, I thought 'that is an amazing project and I want to help'.
From working just one raised bed in its first year, GRIN now helps manage the school's whole garden. 
With a volunteer workforce from Barclays Bank, we created a new area for relaxing in. A woodchip seating area was surrounded with tyres which were painted with rainbow colours and planted with flowers to attract pollinators. Furniture has been donated and old tree stumps made into seats for the children. This area is used for food-tasting and story-telling. A composter was also made by the Barclays team from old wood pallets. Recycling and using natural resources is a key part of the way the group works.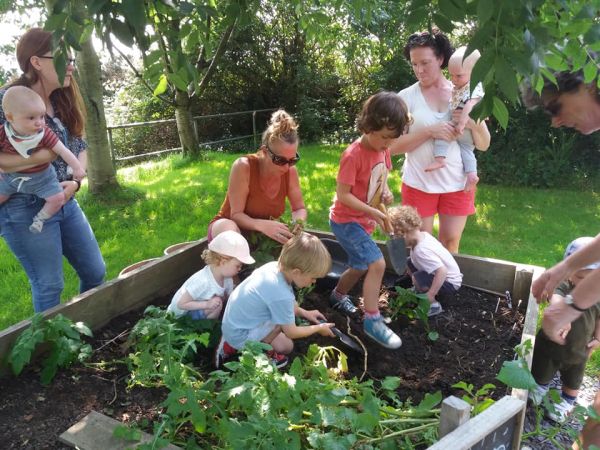 GRIN now works with Arbory School to plan what is planted where and when. It supports the Year 6 Garden Club and does weekly sessions with Year R children.
Anyone attending is offered activities to suit their interests and abilities. Youngsters love the seed planting and watering.  Parents do the less interesting work – weeding etc. Everyone is taught about what they are growing and how to best look after plants to get results. 
We try different foods, tell stories and enjoy chatting. Special events have included a  Hop-tu-Naa event, scarecrow-making for the village fair, Laa Columb Killey, and a Bug Hunt with Manx Wildlife Trust.
One of the groups goals is to grow edible and useful plants. We aim to educate members about the cycles of nature.  Children soak up information so learn where there food comes from. Games encourage children to match produce with the plant in the garden it came from. The younsters genuinely understand food can be grown at home – it is not just bought from a shop. The group encourages attendees to shop local and grow their own as much as possible. There are so many fantastic food producers on the Isle of Man and sharing knowledge of these is part of the group's work.
Organic and traditional methods are used whenever possible. Willow grown in the garden is used to make supports for crops. No weedkillers or sprays are used, encouraging people to care for the environment. 
Latterly, we have been rescuing brassicas from caterpillars. This has been done manually by the children who use their little fingers to find the creepy crawlies, take them off the sprouts and cabbages and put them in the nearby hedgerows.
GRIN creates a garden that not only supplies crops but also encourages nature to flourish.  
The social element is a key component. While enjoying fresh air and companionship, children develop social skills and their parents find friendships. It helps combats isolation, too 
While learning, we have fun. Participants 'grow' in their own way - physically and emotionally.
Sessions run every Tuesday afternoon from 2pm between February and November. They are weather-dependent to an extent, but the group is quite hardy so only cancels if it has to. 
Notifications are posted on the GRIN Isle of Man facebook page and this is the best way to follow what is happening when. During lockdown, this page was a great way to keep in touch, with me posting 'how to' videos and pictures of progress when the group could not meet.
For more information about GRIN, email janeglover68@gmail.com or j.glover@arbory.gov.im or phone 07624 492010.
Posted up on 26th August 2020