The Manx National Farmers' Union Countryside Code awareness campaign is in full swing, visiting primary schools on the Isle of Man. General Secretary Sarah Comish tells us more.
The idea to create some guidance for children around the Countryside Code originated from a local farmer, Paula Creer, who realised that visitors to the countryside were not getting much information about environment they were in, and the need to protect agriculture.
This idea developed with the arrival of Jelly and Oof, orphaned farm animals that Paula took care of. Jelly is a belted Galloway calf, and Oof is a Teesdale cross Swiss Valais lamb.
The idea for a storybook. 'The Adventures of Jelly and Oof', evolved with the animals as the main characters. The Manx NFU's book on the Countryside Code tells the story of the two animals and what happens when they are accidentally let out of their field.
The Manx NFU's Carolyn Lace wrote the story, and artist Steph Quayle-Jackson provided the beautiful illustrations.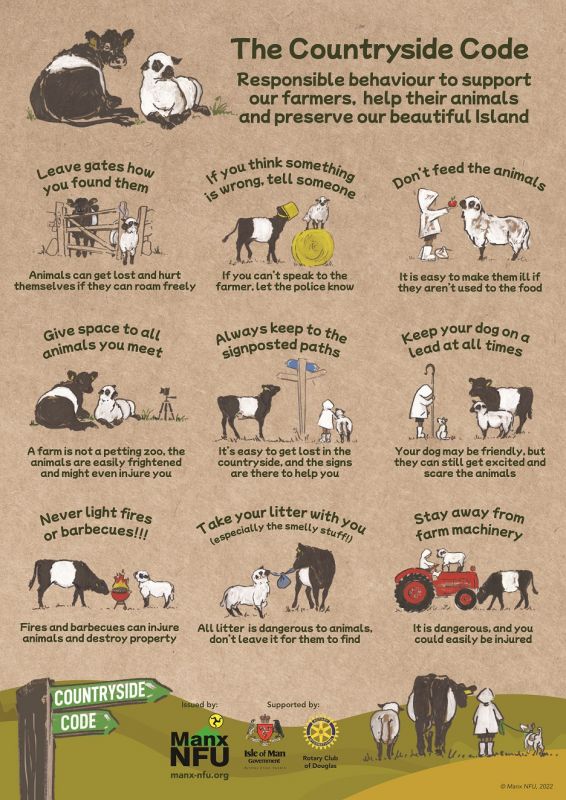 Supported by the Department of Environment, Food and Agriculture and Biosphere Partner Douglas Rotary Club, and with help from the Department of Education, Sport and Culture's Jo Callister, the storybook has been created to accompany primary school visits, with Jelly and Oof helping children to understand the need to follow the code and relate it to real farm animals.
We were extremely pleased to be invited to Rushen Primary School during Schools' Biosphere Week (27th June-1st July) for the first official outing. Pupils proved themselves to be both enthusiastic and considerate about the Manx countryside and local farms. They had a lovely time meeting the animals and asked many interesting questions.
Jelly and Oof have also visited St John's, Sulby, and Manor Park Primary Schools and have more adventures booked for September.
The animals have been more than pleased to be the centre of attention and love all the fuss.
If any other primary schools would like a visit, contact Sarah and Carolyn at Manx NFU via office@manx-nfu.org
The Manx NFU is a proud supporter and partner of UNESCO Biosphere Isle of Man.
Posted up on 25th July 2022