In our regular feature in Business 365 magazine, published by Mannin Media, authors from different walks of Manx life offer a personal perspective on #MyBiosphere. This month, Lucy Kerr writes:
I was born and brought up on the Isle of Man and am very proud of my Manx heritage. Over the years, I have been lucky enough to spend time studying, working and travelling abroad but I have always been drawn back to the Isle of Man.
When I was invited to write about a favourite part of the Island or Island life, my mind began to race. How on earth would I be able to choose one aspect of the Isle of Man to focus on?
The lifestyle we enjoy here is very hard to beat. I absolutely love the ease with which we can access so many stunning locations around the Island, and that we often have these unspoilt places to ourselves.
Every day I marvel at the fact that we can leave work or school and within minutes be back at home, or cycling through a plantation, or building sandcastles on the beach.
A few weeks ago I spotted dolphins in Port Erin bay, so, after dropping my children at school, I dashed home for my wetsuit and swam across the bay (I was hoping to fulfil my lifelong dream of swimming with dolphins…. alas, they did not come and play).
I was still home in time to login to work for the morning. There cannot be many places in the world where a Tuesday morning would look like that.
When talking about specific locations of interest on the Isle of Man, I always go back to places with family history and personal connections. One such place is the very special, incredibly beautiful island off the south coast; the Calf of Man.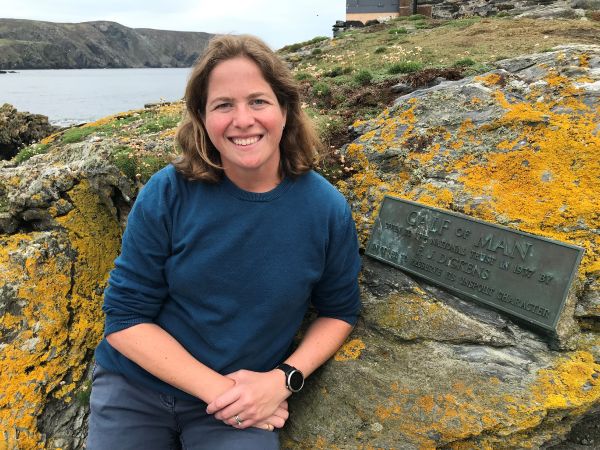 In 1937, my great grandfather, Francis Dickens, was travelling in a train carriage with a man named Joshua Popplewell, who owned the Calf of Man at the time. Popplewell told him that he planned to sell the island to a syndicate for tourism development.
Dickens was horrified and told Popplewell that he would buy the Calf of Man instead. By the end of the journey, the deal was done, and Dickens then gifted the Calf of Man to the National Trust so that it could be preserved in a natural state.
These days I, like many others, enjoy boat trips to the Calf of Man during the summer months, and I am so thankful that its wild and natural beauty remains largely untouched.
The wildlife that can be seen on and around the island is fabulous, from basking sharks to porpoises, and puffins to choughs.
A trip to the Calf of Man also gives an opportunity to view the Isle of Man from a different perspective. We really are lucky to have this unique and spectacular landscape right here on our doorstep.
I launched my business Rock Relocations to help people relocating to our Island, by showing them around, finding property and assisting in all aspects of their new adventure.
My mission is to make sure they settle quickly and enjoy the amazing lifestyle and scenery that is on offer here.
Lucy Kerr is the owner of Rock Relocations Isle of Man.
Posted up on 18th November 2021