In our regular feature in Business 365 magazine, authors from different walks of Manx life offer a personal perspective on #MyBiosphere. This month, Chris Swingler writes:
I am immensely grateful to be able to call the Isle of Man home. I have travelled and lived in many countries, but truly feel settled here. There a huge number of reasons why.
My first visit was 14 years ago. We stayed in the north, not far from the Point of Ayre, and we were taken to visit many places, including for a walk around the castle on St Patrick's Isle in Peel. The seed was sown.
I love the vibe of the music scene and I sing in the Roc Vannin choir. The Sailors' Shelter in Peel has regular weekly concerts in the summer months, a delightful venue, as are the Centenary Centre in Peel, the Institute in Laxey and the Villa Marina, for larger gigs.
Listening to Manx music on occasion at the Yn Chruinnaght Celtic Festival by immensely talented musicians brings to life the cultural traditions, which I really enjoy.
I have started to learn Manx, as I feel that it is a door to learning more deeply about the culture and traditions. My aim is to be able to understand the lyrics in Manx songs.
Sailing has always been a passion. In Ramsey I have taken up dinghy sailing again and taken part in a few races including the Ramsey Regatta, which was hugely enjoyable.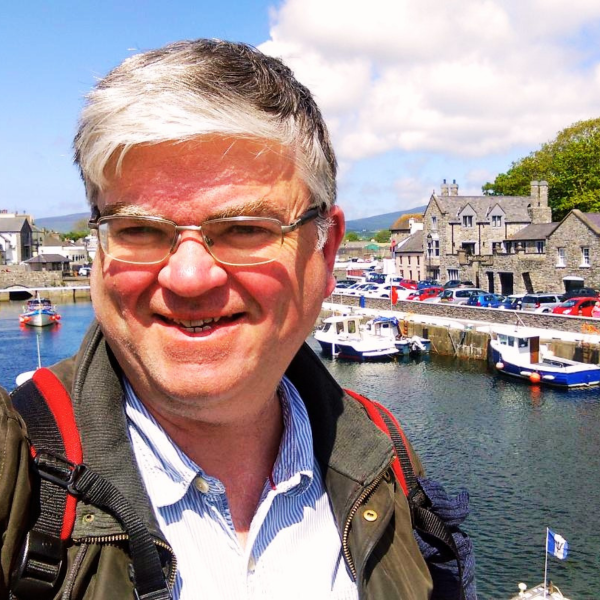 Bringing sailing, singing and Manx history together, I have recently been part of the production team for the musical about the Star of India, a ship built in Ramsey in 1863, which is now part of the maritime museum in San Diego.
Keeping active, I have also enjoyed taking part in the Isle Listen charity's Sea Dip for Sanity in Ramsey. More than 100 of us went in together and, I must say, I felt so good for 24 hours after that. If you are hesitating, it's worth giving it a go.
During the summer months, I enjoy watching the Viking Longboat Races and spotting the Dolphins on the Hospice trail. I also spotted a real one at the entrance to Ramsey harbour.
I can't write a longlist like this without mentioning the fabulous Manx glens and the supremely clear skies that we are often blessed with for stargazing.
I have a few favourite places for food, too. These include Roots cafe on the promenade in Peel, the new Gelato Shed with the sea view terrace in the old swimming changing huts in Laxey and, as fan of curries, I do love going to the Taste of Bengal, Douglas.
I am hugely impressed by the annual Manx Youth Games, which my daughter has taken part in for cricket, tennis and squash in recent years, and also by the Lieutenant Governor's Award Programme. Seeing the whole school class in the trees at Ape Mann means that we have a courageous next generation.
Above all, we are blessed to be living with fresh air, the sight and sound of the sea never too far away, majestic hills providing a beautiful scene at every turn, and a great community spirit, with the UNESCO Biosphere Isle of Man project providing a framework to guide us all along the delicate path to the future.
Chris runs Idea Hat in Ramsey, with a focus on world wildlife limited edition prints, Isle of Man artwork and food waste transformed products made by circular economy pioneer Krill Design. Idea Hat serves refreshments and shows wildlife films.
Posted up on 22nd March 2023