This Hop-tu-Naa, there will be a scary amount of single-use plastic in circulation, writes Breeshey Kermode, UNESCO Biosphere Isle of Man Project Assistant. The festival is the oldest unbroken tradition in the Isle of Man. Let's work together to break the new tradition of consuming unnecessary plastics.
Our ancient Celtic ancestors would be blue in the face to see the damaging effects of plastic pollution; caused by celebrating the festival they initiated to mark the start of winter (Oie Houney).
Shop sustainably and support local. Every single-use plastic item has a sustainable alternative, easily available in most local retailers.
Swap out plastic party accessories for eco-friendly, recyclable, reusable or compostable options such as wood, bamboo, paper, card, glass and metal. Be careful with packaging – buying metal straws that are sold in plastic is ironic and often unavoidable, but is better than continuing to buy plastic straws.
Don't forget to take your own bags when you go shopping and avoid shopping online, where you are most likely to find your item accompanied by unnecessary plastic packaging. 
The Island's charity shops and second-hand outlets are treasure troves for fancy dress, with outstanding statement pieces on offer - not just clothes but fabrics and décor, too.
You won't have the same window display as your neighbour if you shop second-hand and that vintage vampire suit deserves to see the light of day once more.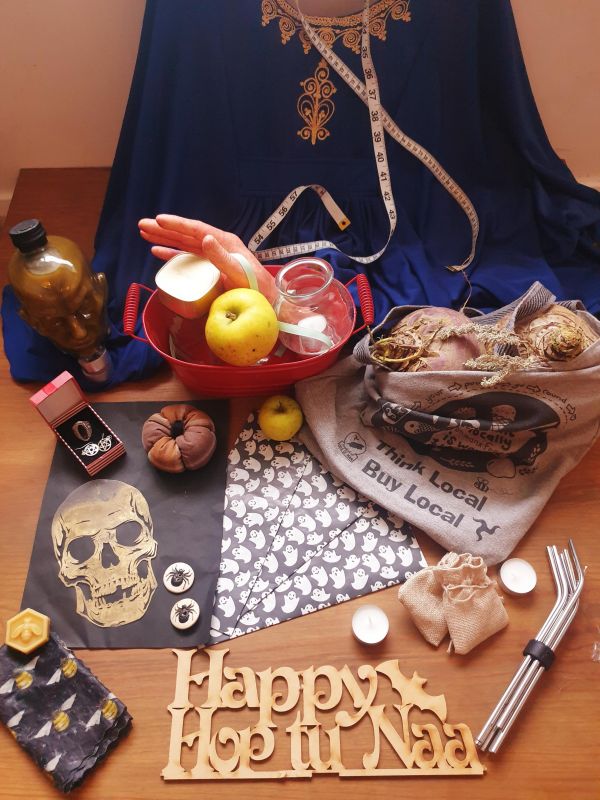 Breeshey gets creative for Hop-tu-Naa
If you want to save some pennies or fancy a creative challenge, start at home. You might still have last year's bits and pieces gathering dust in the attic. The empty jam jar can become a candle holder. The old sheet in the airing cupboard can be transformed in to a spooky table cloth, bunting or costume. The weird and wonderful selection of mugs you keep meaning to sort can be used to serve up the party punch. Visit the local amenity site, where somebody's discarded photo frames can be your spooky photo props.
Avoiding plastics with food is trickier, but possible. Serve a seasonal feast or spread, using local farm shops, bakeries and zero waste stores. Use the innards of your carved turnip to mash up with carrots. Bake your own sweet treats or ask someone you know to. Wrap your leftovers in locally made beeswax wraps or household containers and compost any food waste.
Communicate with friends and family, share ideas. If you are having a get-together, who is bringing what? How can waste be minimised? And spread the message. Say Naa to plastics! You could create a challenge, awarding the most environmentally conscious efforts in whichever way you see fit.
If you have children and are taking them round the houses, all of the above can apply to their costumes and choice of collection pot. If you are staying in and expecting visitors, ditch the bags of individually wrapped sweets in place of unwrapped goodies that you can buy by weight, or more traditional offerings like fruit, small change, marbles, home-baked goods or anything you think of.  
Plastic is created from unsustainable and finite resources and, every day, approximately eight million pieces of plastic end up in our oceans. That is just one terrifying statistic. One night of seemingly harmless celebrations can mean crippling devastation in the natural world; a horror story we REALLY need to stop repeating.
Posted up on 24th October 2020