Jewellery maker Claire Pearse's ElementIsle collections feature natural objects found on the Isle of Man's beaches and in glens - and even cast in water from local streams. We speak with her about what inspires her work:
Why did you become a jewellery creator and how did you learn to craft your pieces?
I have always had a great love for design and studied design and technology here on the Island during my schooling. However, upon leaving school, and somewhat by accident, I fell into a career in finance. Fast forward a few years and what started as a hobby in jewellery making, back in 2006, eventually grew into a real passion. Relocation due to my husband's job in 2007 (along with our two young children) saw us move to the United States, and this gave me the opportunity to retrain, taking short courses learning some of the basic skills in metalsmithing. During the next 10 years, we also moved to Denmark, which was such an amazing experience. Inspired by the most incredible Danish design and undertaking further study, I really started to develop my own style. A further move to Scotland (before eventually moving home to the Island in 2016) saw me study jewellery design at Grays School of Art in Aberdeen, which really gave me the confidence to make that final step and start my own business here on the Island in 2017.
A chance meeting in early 2017 with other Island-based creatives helped me find a small studio space at Grenaby Art Studios and, here, my 'Element.isle' jewellery brand was born.
Why did you call your business Element.isle?
Once in the studio and making new designs, it was so immediately apparent how I was being inspired by my surroundings, each piece capturing 'elements' of the Island, while being forged by the natural elements of fire, air and water. It is such an incredible, alchemic, process, and the name just developed from that practice. In all our years travelling, our Manx roots have always been something we are so very proud of, and returning 'home' I felt my designs flourished and grew, and I wanted to name the business something that reflected that. From here, I have also gone on to launch the collections 'Nautic.isle' (inspired by the sea) and 'Botanic.isle' (inspired by our native plants, trees and flowers) and 'Natur.isle' (by organic free flowing shapes).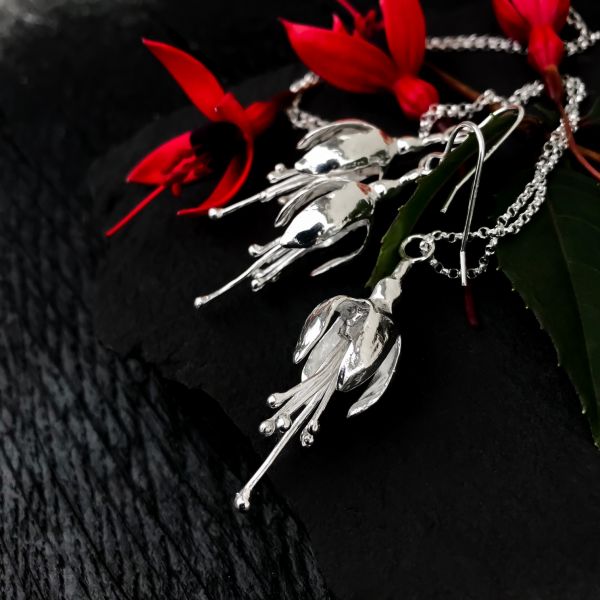 How does our Isle of Man Biosphere influence your pieces?
Growing up on the Island, I spent countless hours in the beautiful glens and playing along the shore, shaping me and my love for the outdoors and nature. We love nothing more than exploring the Island and the changing landscape and wild beauty is an endless source of inspiration. I always have a small bag in my pocket for collecting things we find along our way, including leaves, twigs, pebbles and shells, and I love to take photographs, too, of interesting textures, natural shapes, wildlife and the landscape. These pieces are then often sketched and incorporated into my designs, capturing an element of the Island, immortalising it in silver and gold to be worn and loved for years to come. My love of nature and my desire to be kind and preserve our planet has also shaped my business in my choice of using recycled silver and gold, ethically sourced gemstones and adopting green studio practices whenever possible, and in our use of eco-friendly recycled packaging.
Your pieces incorporate items found on beaches and glens. What do you search for, how do you craft them into individual pieces of jewellery and what story do they tell?
I love to use natural elements in my work. Whether it's a leaf, flower or shell, I use a number of different methods to capture it and replicate it in precious metals. From the ancient method of 'lost wax casting' to fabricating or moulding, each piece captures the most wonderful and often intricate detail, which has the most incredible tactile quality. One collection in particular which captures something extra special is the 'Droplet' collection. This came about somewhat by chance, melting down my scrap silver and pouring it into water to form silver grain.  Watching the silver hit the water and immediately solidify in different disc-like shapes, I couldn't help but wonder what may affect its shape. A few weeks of experimenting followed, and we found that using river water collected from the glens, and seawater from our beach affected the shapes that were produced, and so the 'Droplet' collection was born. Each 'droplet' is unique, and that is what I love about making them, you never know each time you pour what will appear. From simple discs to ornate organic shapes, we can't help but think there may be a little bit of fairy magic in each one.
What plans to do you have for the future?
It's a really exciting time for us. Element.isle is growing as a family business with my husband, Scott, coming on board and helping in all aspects of the business, and you will often see my two children, Amy and Adam, helping and pottering about in the studio too. We ship worldwide, sharing our jewellery design, its story and unique Island origin all over the world, and this year we will be launching our new website. We are also working on some very exciting projects and new design collections, which draw on not only the Island's natural beauty, but also on its heritage and folklore.
Where can people see your work?
Our studio is (under normal circumstances) open to visitors on Fridays and Saturdays, located at the artist studio complex Grenaby Art Studios, home to a number of artists (including woodturning, pottery, fine art, glass and printmaking). Our jewellery is also available to see at Manx National Heritage (Manx Museum, House of Manannan and Rushen Abbey). We can also be found online at www.elementisle.com, on facebook and Instagram, where we share photographs and stories about our work, the processes that go into making them and our love of the Island.
Website: www.elementisle.com
Instagram: @element.isle
facebook: ELEMENTisle
Photos: MB Imagery
Interview conducted prior to Covid-19.
Posted up on 12th May 2020