The life of a majestic tree, felled because of disease, is being preserved in a unique form by Gaby Cooper. She writes:
I grew up in a creative family and was encouraged from a young age to express my imagination through art. I studied art at A level, together with languages and literature, before gaining a degree in English Literature.  I enjoy exploring my creativity through writing, painting, sewing and photography. 
My new interest in tree ring printing was prompted by the necessary felling of an approximately 120-year-old beech tree in our garden which had become diseased. 
It was devastating to see such a magnificent tree cut down and I couldn't bear the thought of all the history held in its branches just being turned into firewood. 
We kept a lot of the wood and I decided to try printing as a way to record and celebrate the life of this amazing tree. 
I select each piece for printing based on a detail such as a new branch emerging or an intact section of bark which I think will render a good impression in print.  The physicality of the process appeals to me, from the sanding and preparing of the surface to the application of the ink, and the pulling of the print.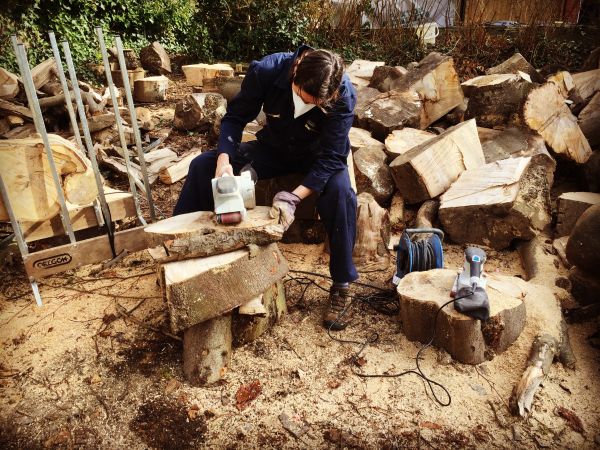 Gaby sanding a section of the tree
During the process I establish a connection with the piece of wood I am working on, as I become familiar with its ridges, notches and edges. In a sense, I read the surface of the wood as I translate its unique details into print.
My aim with this beech tree printing project is to print as many sections of the tree as possible, to illustrate the natural variety which exists in the wood and the different ways it can be interpreted. 
Each print reveals a chapter in the story of the tree, informing us of its life and environment. Yet there is also a more abstract appeal in the shapes and patterns reproduced in print.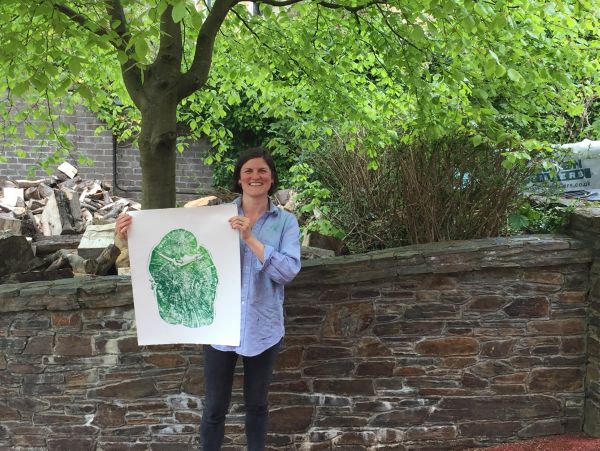 This began as a personal project, yet it has led to me meeting knowledgeable and enthusiastic people who share my interest in nature and its capacity for informing and inspiring creativity.
Ultimately, I hope to showcase all my beech tree prints together, so they can be experienced as a whole, and viewers can appreciate the significance and magnitude of this tree and others like it and, through this understanding, work together to protect, preserve and regenerate the natural resources we are so fortunate to share on this Island.
To view my work visit @gabycooperart on Facebook and Instagram.
My prints are for sale and £5 from each sale is pledged to the Isle of Man Woodland Trust for the planting of native Manx saplings. For any enquiries email gabycooperart@gmail.com
Posted up on 15th May 2021