A giant bug has been let loose in our Biosphere – to promote keeping it healthy.
Beastie the Bug is the mascot of a campaign by the European and Mediterranean Plant Protection Organisation to mark United Nations' International Year of Plant Health.
The mascot travelled to the Isle of Man after the Forestry Commission invited Jason Bolt, Head of Forestry, Amenity and Lands with the Department of Environment, Food and Agriculture (DEFA), to create a blog supporting the campaign.
After being quarantined because of Covid, the character went out and about with DEFA's Dutch Elm Disease Coordinator Jimmy Lee as he prepared for felling work that will continue the fight against the disease in the Island.
The Island has a healthy elm population, estimated to be in excess of 250,000 trees.
Using drone technology and high-resolution imaging, Jimmy can survey for symptoms of the disease not evident from the ground and in remote locations.
Reacting swiftly to indicators of infection is essential to effective control.
Using drone equipment also allows Jimmy and his colleagues in DEFA to survey for impacts of other diseases such as Ash dieback (Hymenoscyphus fraxineus) and Phytophthora ramorum, providing opportunities for swift management and action.
Beastie is travelling all over the world in a quest to spread the healthy plant message.
It arrived in the Island from Denmark and the next stop on its journey was Kew Gardens, London.
See its journey here.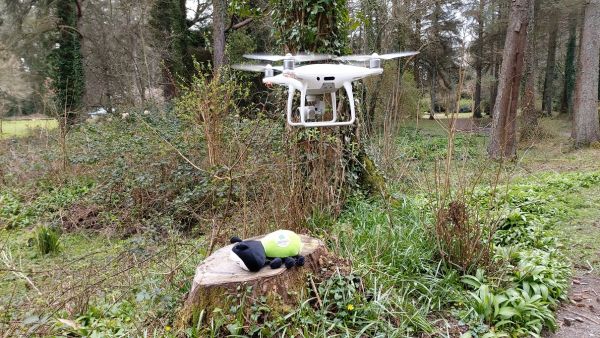 Posted up on 6th May 2021