Our #CloserToNature series of blogs aims to keep us connected with nature this spring while staying at home. Neil Morris, Managing Director of Manx BirdLife, encourages us to use our time to sit and stare:
Birdwatchers are quintessential kleptomaniacs. They just love to collect sightings and keep lists.
Indeed, most of the nature lovers among us will keep records, however rudimentary, of the wildlife we see. Even if it's just a mental note. 
For example, we can probably all recall the first time we saw something exciting such as our first ever Dolphin, Seal, Whale or perhaps Buzzard or Woodpecker. Or perhaps the occasion on which we heard our first Curlew call or Blackbird sing.
I'll certainly never forget the evening when I heard my very first Nightingale.
It sang into the night from a hedge just across the busy main road in front of our house in Cuckfield, Sussex.
I don't think my mother was very happy that I was out until midnight with our family's one and only precious tape recorder (those were the days) trying to capture the sound of a Nightingale in full flow. 
It was thrilling to put a big fat tick against Nightingale in the list of birds in my first - and much treasured - bird book (which I still have to this day).
For the ardent birdwatcher, lists come in many forms: local patch or site list, parish or county list, country list, Western Palearctic list and - the biggest of them all - the World list! Some even keep an 'indoors' TV or Radio list. These lists comprise the birds heard in the sound tracks of radio programmes or espied in scenes from TV programmes and films.
But perhaps the most prosaic and most satisfying list of all is the garden or window list.
It never ceases to amaze me how little time most of us spend simply looking out of our windows, into our gardens and the skies above. Perhaps we're all too conscious that such habits might be considered aimless or just wasting time. But they can of course be calming, uplifting and always readily available.
The Manx BirdLife Garden Birdwatch Scheme is our longest running survey. It provides fascinating data on the fortunes of our familiar garden friends - territorial Robins, cacophonous House Sparrows, shy Dunnocks, melifluous Blackbirds and more. You can join the scheme for free (visit http://manxbirdlife.im/recent-sightings/garden-birdwatch/). 
Looking out the window to spot, identify and observe the behaviour of our garden birds is not a bad way to spend time in isolation. And when looking out of your windows, don't just look down; look up as well. With a bit of patience you'll be surprised what flies overhead. And that's a nice cue for a quick visit down memory lane...
One of my childhood heroes was my chemistry teacher, Bill Merritt. Bill was one of the more idiosyncratic members of the Sussex Ornithological Society. (Birdwatching certainly has a tendency to attract us idiosyncratic types)! I first discovered Bill was 'into' birdwatching one summer's school sports day. 
While I was competing in the 800 metres final, Bill hurtled across the running track faster than all of us competitors. His gaze was firmly fixed up in the sky. As soon as I crossed the finishing line (though let's not dwell on which position I finished in) I gasped my way across the sports field towards Bill. "Hoopoe" he exclaimed. No sooner had I registered the prospect of getting my first real rarity onto my bird list, Bill explained the bird had flown straight over the adjacent woodland out of sight.
Did I mention that birdwatchers also keep a list of the birds they have come close to seeing but have missed? It's called the 'Dip List'. On that fine summer's day, I added the first bird to my very own dip list! I still keep a (very sore) mental note of the birds that I have come close to seeing but have thus far failed to add to any of my other bird lists!
Bill Merritt also taught me to spend time looking upwards. "After all", he would say, "birds fly". Bill described how he would climb up Ditchling Beacon in Sussex, lie on his back on the chalk grassland and simply watch to see what flew overhead. Buzzards, harriers, falcons and even Osprey were on his 'looking up' list. It was impressive stuff at a time when birds of prey were especially rare in Sussex due to overuse of man-made chemicals and persecution by the Pheasant-rearing community.
So if you have a bit of time to spend aimlessly looking into your garden and up into the sky over the next few weeks, I can highly recommend it. The first of our summer migrants from Africa are now arriving. There will be Swallows and House Martins to spot.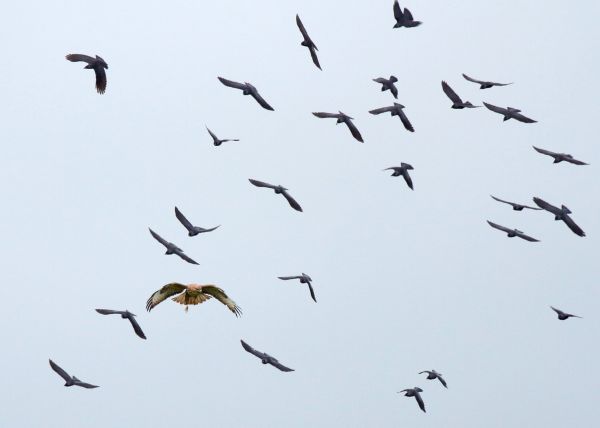 Common Buzzard by Neil Morris
Given the recent increase in numbers of Buzzards across the Island, there's a good chance of seeing one wherever you live. Joining them will be soaring Ravens, stiff-winged Peregrine Falcons and, as we head into May, the return of our much-loved Swifts.
Go on. Give it a go! We'd love to receive news of what you see. Check out the online reporting form at http://manxbirdlife.im/sightings/submit/.
You can also take a look at the sightings noticeboard at http://manxbirdlife.im/sightings/ where, in real time, everyone's sightings from around the Island are published.
Whatever you do, stay safe, follow the Isle of Man Government Coronavirus guidelines and, above all, enjoy a bit of 'aimless' window-watching.
Posted up on 3rd April 2020