In partnership with UNESCO Biosphere Isle of Man, the Isle of Man Arts Council is inviting contributions to Ellyn, a book of contemporary art embodying what is special about the Isle of Man and an accompanying exhibition. We asked Olivia Savage, the Arts Council's graduate intern and the project's creator, to tell us more about it:
How has the Ellyn project come about?
Last year when I was finishing my university degree in Fine Art in lockdown, my year and myself wanted to have something physical to show all of our artwork together as we couldn't have the usual end of degree exhibition. We came up with the idea of publishing a student-led collaborative artist book that had works from all of us in as well as written insertions by professors from our school. It was really successful and achieved that feeling that we needed of still working together even under these circumstances. When I was given the chance from the Arts Council to create and lead some of my own projects in my role, I realised there wasn't yet a platform like this for our talented local artists, this was what inspired Ellyn. I wanted to create a space that brought as many of the Manx fine artists of today as I could, together in a format that could be held permanently.
What will be the outcome?
A book that not only celebrates the inspiring fine art that our Island can produce, but that is also a work of art in itself. As an artist myself, I wanted to challenge the traditional confines of a book layout and play with these limits in a way that makes each page more exciting and really brings the artwork featured to life. As well, I was aware that it seemed unfair to ask artists to produce a piece of art only to have it shown on a flat page. Therefore, we will also be holding an exhibition that will accompany the launch of Ellyn, to give the project another dimension as well as give the artists and public a chance to physically experience all the artwork that will be featured in the book.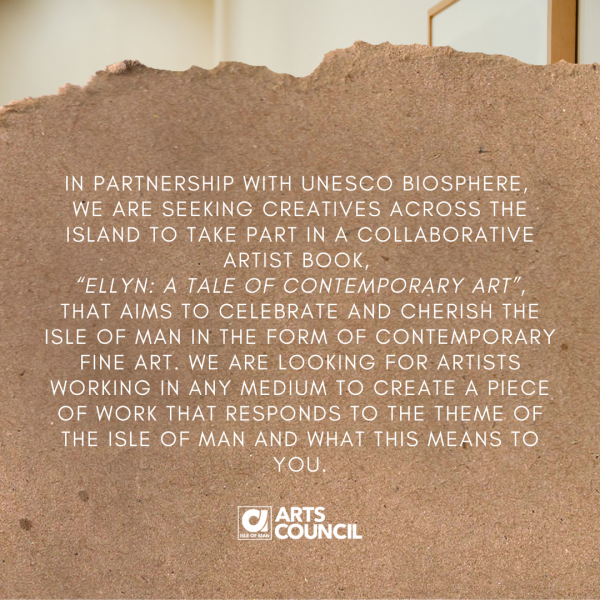 How are artists inspired by our Biosphere?
It is undeniable that our fantastic scenery and folklore has been inspirational to the Manx artwork we've seen over the years but as well, art can be used to enhance our environment without hindering it. Murals, sculptures and other forms of art can be found all over our Island and encourage the public to embrace the outdoors by complementing the space they are in. The Isle of Man inspires Manx art and Manx art helps us to love our Island and its culture.
How important do you feel it is that we capture our sentiments about our Island through art?
In my opinion, art can tell stories in ways that words never could achieve. There is a lot to be said about the Isle of Man; its culture, history and definitely its sense of community, but you can already find this information in a documentary or a history book. By asking artists to create artwork in response to our Island and what this means to us individually, I'm hoping to bring out new sentiments and beautifully documented, personal reactions to the question 'what makes our Island special'?
This is the first major collection of art for several years. How significant will this be?
The book will be significant for both harnessing the fine art on the Island as well as encouraging the development of it. I have invited artists whose names are known across the Island for contributing to our arts community, and I have put out an open call to the public for their contributions as well. In this way, I hope to achieve both showcasing our known and loved Manx contemporary artists, but also give younger artists or members of the public that haven't had the resources to get their work out there, a platform to be able to develop their practice and showcase their work. Particularly as there are not many opportunities to exhibit work on the Island with our limited number of galleries, as a young artist myself I really wanted to reach out to and give everyone an opportunity to exhibit their artwork professionally.
We are living in unprecedented times. How do you think this is influencing our artists and will be reflected in the work they submit?
I've spoken to a few artists about their experiences of lockdown and how it affected their work. For me, it encouraged me to approach new mediums and gave me a different perspective towards my work, particularly reflecting on how lockdown affected my mental health. For some artists, it didn't interfere with their work at all. I hope that the book doesn't become "Covid focused", but I expect that our sense of community will be more powerful and prominent in the book because of the ways we have had to and still do work together in order to battle the pandemic.
How can people take part?
There is currently an open call for submissions. Absolutely anyone can apply and it is free to do so. Simply head over to iomarts.com and you will find details of Ellyn on our 'Projects and Partnerships' page, including the brief and requirements for submissions. We are asking for a new artwork to be made for the book and to be submitted by 2nd July 2021. The artwork can take any form. The more variety, the richer the content of the book. If you are selected, we on the arts team will be in touch to get the work photographed for the book and with the details needed for the exhibition, which will be held in September and run for three weeks.
Posted up on 18th February 2021