We welcome Breeshey Kermode, who has joined UNESCO Biosphere Isle of Man as Project Assistant.
Breeshey was born and raised in the Isle of Man and knew from an early age that she had a strong connection with the Island and its natural environment, heritage and culture.
She is a native speaker of Manx Gaelic, which she learnt alongside English, and she has an active interest in conserving and promoting the language.
Breeshey's immediate interests were wildlife, nature, music, creativity and being active.
She spent the majority of her childhood outdoors, exploring the nature on her doorstep and rescuing injured birds.
Breeshey attended St Ninian's High School and went on to study Marine Science and Conservation in Cornwall before returning to the Isle of Man, where she has worked in various areas including biochemistry, hospitality and bar management, and the public sector. She has represented the Island at athletics and is a part-time youth worker for her local youth club.
Breeshey is studying for a degree in herbal medicine, after developing a strong interest in the healing properties of botanicals, particularly those found in the Isle of Man.
She has an interest in ornithology and is a keen birdwatcher. Her other hobbies include needle-felting, creative writing, upcycling, kayaking, snorkelling and climbing.
Breeshey says: 'I am delighted to be joining the Ecosystem Policy Team at the Department of Environment, Food and Agriculture, working for UNESCO Biosphere Isle of Man.
'There is so much excitement surrounding the unique status the Island has and I take every opportunity possible to boast about it. To work in the area that promotes and maintains the Island's special relationship between people and nature is a dream come true and I thank my lucky stars that I have been given this opportunity.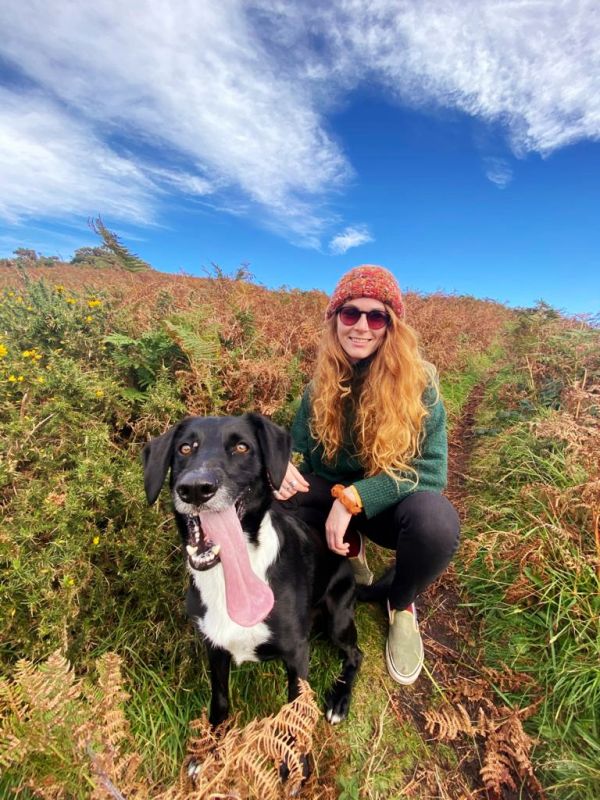 Breeshey and her dog Fynlo
'I do believe this is the most special place in the world and I may be biased (and a hopeless romantic!) but I have this overwhelming sense of belonging to this magical Island, which I know so many other people feel too.
'In my role, I will be championing the Refill Isle of Man scheme; an incentive to encourage the public to refill their drinking bottles at local outlets, rather than buying single-use plastic bottles.
'I will also be involved in the organisation of UNESCO Biosphere projects and collaborations that will be announced in the near future, and I will be liaising with current and new Partners who are signing up to the Pledge scheme.
'I hope that the knowledge and experience I have gained in previous roles will prove to be beneficial. Gura mie eu.'
Posted up on 5th October 2020