In our regular feature in Business 365 magazine, authors from different walks of Manx life offer a personal perspective on #MyBiosphere. This month, John Rispin writes:
Moving to the Island as a young man of 25 from Manchester was my first single great leap into the world and the unknown.
Coming off the back of a UK summer, it was in September 2000 that I left the UK and headed to the Island for my first autumn and winter. Little did I know back then this Island was going to become my home.
Like many comeovers, my plan was to work on the Island for a few years before heading off to other destinations, but the Island grows on you. The Island is unique in its landscape, with vast spaces to explore, beaches, glens, coastal walks.
For me I've never tire at the how beautiful the sunsets are, whether in Peel or Port Erin (two of my favourite spaces on the Island) or catching sunrise on early morning walks along Douglas's Promenades. I love seeing the Island wake up and go to sleep...
The night sky is something special here, like nothing I've seen anywhere else, with little/no light pollution. On a clear evening, the sky just pops twinkling with diamonds in the night sky.
Twenty two years later this place has long since become my home. I feel proud and passionate about our Island. I've settled down, and have an amazing partner, Shelly, from London, and a wonderful 8-year-old son, Marlowe.
They're both my inspiration, our son being inspiration for both of us, It wasn't until he came along that I rediscovered the Island, exploring the Islands beaches, and glens with him.
Whilst we may live in the city, come summer time we love spending our weekends on Peel or Port Erin beach, camping around the Island and just enjoying staycations.
And it was from exploring the Island together as a family that we started to think more about the environment around us.
Sure, like many individuals we've been recycling for years, but it wasn't until we explored the Island with our son that we began to see the impact of rubbish being left anywhere and everywhere.
For us this was our call to arms, we joined beach clean-ups with Beach Buddies, we picked up rubbished as we came across it, we started to walk our local streets to help keep them clean, we cleaned nearby parks, and so on.
We have gone on to be active members with PlasticBusters and we've adopted a park, promising to keep it clean/free from rubbish under the Adopt The World scheme. And we leave a rubbish picker in the car so that wherever we go we can do a little picking. Thanks Bill Dale/Beach Buddies for giving this to our son.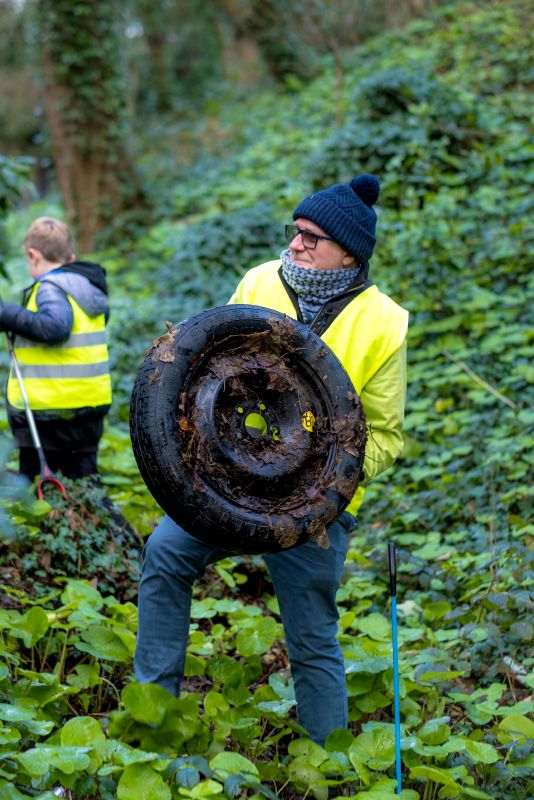 It became a great way for us to bond even more as a family. What made us proud was when Marlowe received a Manx Hidden Hero Award last year for his work with PlasticBusters. At just eight, it was such a moment for him.
I love walking, and, during Covid, I took part in the Island Covid 1022km challenge helping to raise funds and awareness for mental wellbeing during the pandemic. Last year I started to work on offsetting my own carbon footprint by undertaking activities that will see an estimated 700+ trees planted to offset my impact on the planet.
Our family story started with two halfs, one in Manchester, the other London, resulting in our son being born on the Island. He, like his mum and dad, loves this Island, the environment, and especially the people who make this Island a truly wonderful place to live and work.
John is a Senior Corporate Relationship Manager, Commercial Banking, HSBC Bank plc, Isle of Man branch specialising in public sector, ESG, technology and corporates. John and his family enjoy helping in the local community, whether it be attending a Beach Buddies or Plastic Buster event, keeping the families Plastic Busters 'Adopt A Place' Woodbourne Square free from litter, or just going on walks around the neighbourhood picking up litter.
Posted up on 12th April 2023