Who is involved?
Our list of project partners is growing rapidly and encompasses businesses, schools, charities and community groups across the Island.
Environmental/Cultural
Community
Educational
Business
Government
Useful links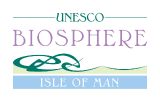 Sign up to the UNESCO Biosphere ISLE OF MAN pledge
UNESCO Biosphere Isle of Man is open to everyone. You are welcome to be involved, providing you support the principles outlined in The Biosphere Isle of Man Pledge. This is the pledge that our partners have signed up to. Encapsulating the aims of the project, this is the Pledge that all our partners sign up to.
If you are interested in being involved as a business, you'll find more information about the benefits of being a partner and how it all works in the Project Partners Guidelines for Businesses and also for Schools, Community Groups and Charities.
To apply to become a Partner and Supporter of UBIOM, please fill in this application form, and help us to tell others what you are so proud of, and keep us updated about how you will get even better.