Scouts in the Isle of Man are setting the pace for a more sustainable planet.
The Scout Association of the Isle of Man is adopting a UNESCO Biosphere Isle of Man badge.
To earn it, Beavers, Cubs, Scouts and Explorers will undertake challenges relating to the UN's Sustainable Development Goals, or Global Goals, as they are known.
The Goals connect people and forge partnerships for a more peaceful and prosperous planet.
They underpin the work of UNESCO globally. The Isle of Man is the only 'entire nation' UNESCO Biosphere.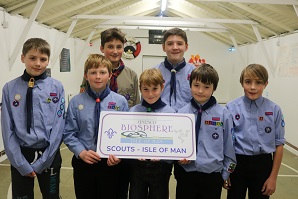 Geoffrey Boot MHK, Minister for Environment, Food and Agriculture, visited Scouts at Peel last night to meet members and launch the badge.
The Minister said: 'Young people care passionately about the challenges affecting our planet and our Island and want to be a big part of the solution.
'From taking climate action to reducing inequality, the Global Goals mirror our own actions in the Isle of Man Government to contribute to a more sustainable world.
'It is wonderful that our Scouts of all ages will adopt, and work towards, this badge, and these aims, in innovative ways.'
Gil Costain-Salway, the Scouts' Deputy Island Commissioner for the South of the Island, commented: 'As per our motto, Scouts learn skills for life and we encourage our Scouts, whatever their age, to be aware of the world around them, to value it and care for it.
'Our Island's UNESCO Biosphere status, and our new badge, encourage them to make every effort to do their bit.
'The Isle of Man is setting the pace for a better, fairer, cleaner world and our Scouts are proud to be part of that endeavour.'
Girlguiding Isle of Man adopted a Biosphere badge and, so far, more than 170 members have earned it by fulfilling tasks relating to the Global Goals, ranging from collecting for the Isle of Man Food Bank to studying the size and activities of whales.
Badges are provided free by UNESCO Biosphere Isle of Man.
Photo: Peel Scouts with the Biosphere Badge
Posted up on 23rd October 2019