Explore the Isle of Man Biosphere's 10 Marine Nature Reserves (MNRs) on #MarineMondays. This week, Dr Peter Duncan, Senior Marine Environment Officer for the Isle of Man Government, takes us to the underwater jungle of Little Ness:
In retrospect, I think I was wrong in calling the Calf and Wart Bank MNR the 'jewel in the crown' of the Manx marine Biosphere. Perhaps that area should be the 'crown', and Little Ness should be the 'jewel'.
Little Ness MNR, or Kemmyrk Bea-Varrey Nesh Beg, is unique in being a single-feature reserve, although to be fair there are a few other interesting things in the area! But let's start with why it was designated a MNR in the first place.
Perhaps in the mists of time, Manannán Mac Lir and his mermaids knew of this site, but, as far as I can determine, the credit for its recent discovery goes to another Seasearch team, Caroline Perry and Phil Roriston.
During a drift dive in 2008, they came across a horse mussel (Modiolus modiolus) reef in fantastic condition, with no sign of dredging or anchor damage, all the more remarkable due to its proximity to Douglas and the bad weather/pilot anchorage where the largest vessels await pilots to take them into Liverpool.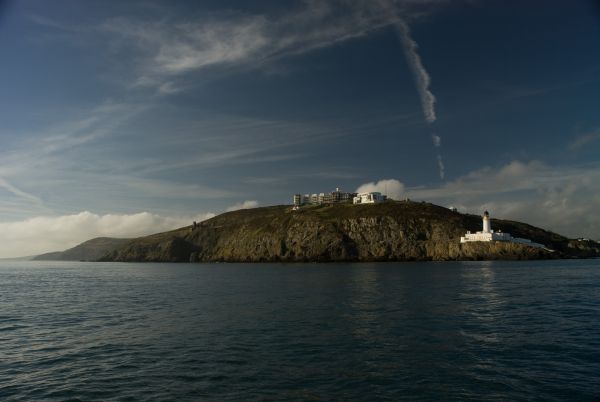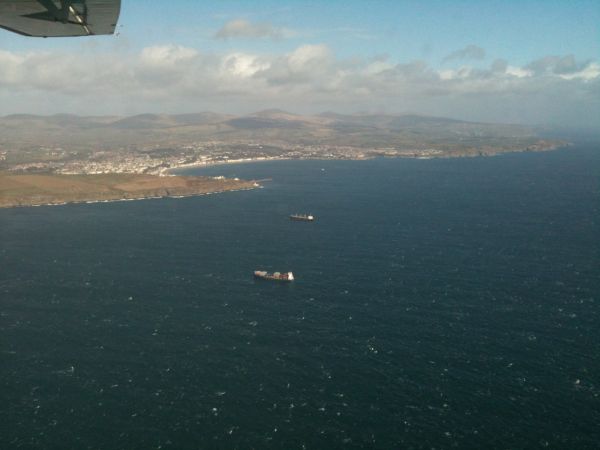 Picture 1: Little Ness MNR looking south from Douglas Head, with Marine Drive. Picture 2: poor weather pilot anchorage for large ships, Douglas Head
 
Anyway, horse mussels are large, up to 20cms long (so quite a decent portion of moules marinière!), and, like their smaller blue cousins, they attach to the substrate and to each other using sticky threads, or byssus.
Over time (and horse mussels have plenty of that, as they live for up to 100 years), their attachments can construct a biological, or biogenic reef which forms a distinct, raised feature that sits proud of the seabed.
As you can imagine, lumpy things like horse mussels don't fit together perfectly, and the spaces in between provide a multitude of structures and spaces for other creatures to live on and in.
Images and video taken by Caroline and Phil showed just how biodiverse a site this was, and even now they are some of my favourite underwater Manx images.
A selection of these are shown below, so see how many different species you can identify.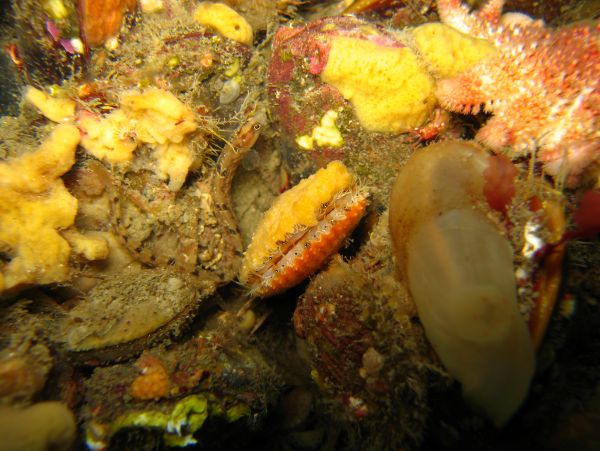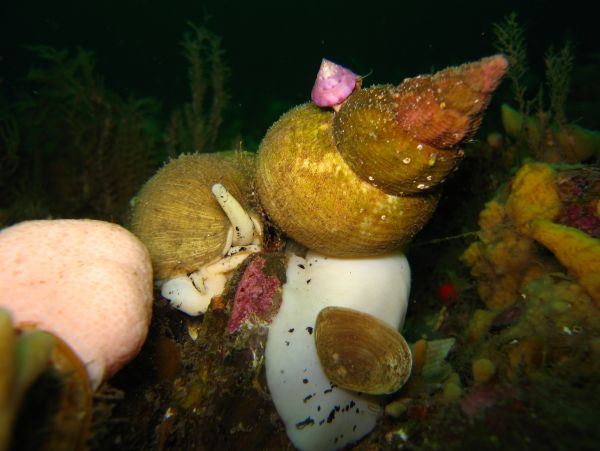 Reef biodiversity. Picture 1: butterfish, spiny scallops, sea squirt, sunstar, mussels, sponges, crabs. Picture 2: Whelks, painted top shell, soft coral, sponges, hydroids (Caroline Perry and Phil Roriston)
 
In 2013, DEFA hosted a horse mussel conservation conference in Port Erin and a dive team from Herriot Watt University took the opportunity to explore the Little Ness mussel reef.
So called 'clump samples' were taken, about 0.25m2 each, and then sent for taxonomic analysis by local and UK experts.
The resulting species list identified 296 species, which is the second most diverse Modiolus reef yet recorded (we were beaten by a Shetland site into second place by a single species, but secretly I know of two common species that surprisingly didn't appear in the samples, so let's call it a draw!).
But, to be serious, it does demonstrates what a special area this is, and worthy of conservation status – not least because you can find four of our six, commonly-found scallops here.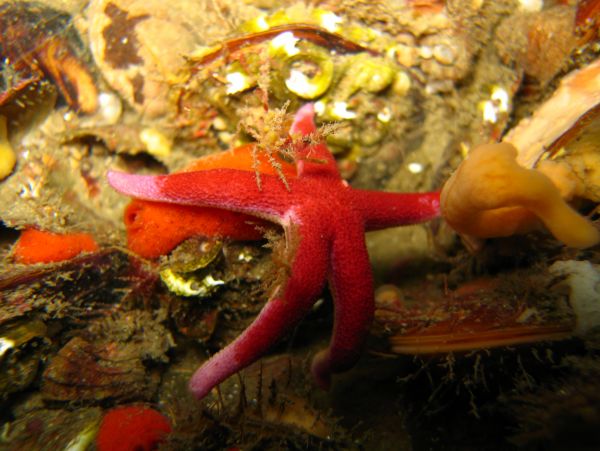 Picture 1: Mussels, hyrdoids, catshark eggs, spiny scallop, sponges. Picture 2: Mussels, purple henry starfish, spider crab, sponges (Caroline Perry and Phil Roriston)
Subsequent work, using drop-down video camera from Fisheries Protection Vessel Barrule, helped define the boundaries of the site and, with good support from the public and the Manx fishing industry, Little Ness became first, a Conservation Zone in 2016, and then a Marine Nature Reserve in 2018.
In addition to hosting amazing biodiversity, the mussels themselves have another habit that helps create a functional habitat; they are active filter feeders, with rates of up to 3 litres of water per hour; so 1000 mussels can filter around 24 tonnes of sea water per day.
Mussel density estimates on Little Ness are exceptionally high, with over 240 per m2 in some areas. Imagine all those beasties, filtering away like thousands of little pumps, generating water currents that oxygenate and nourish deep into the reef.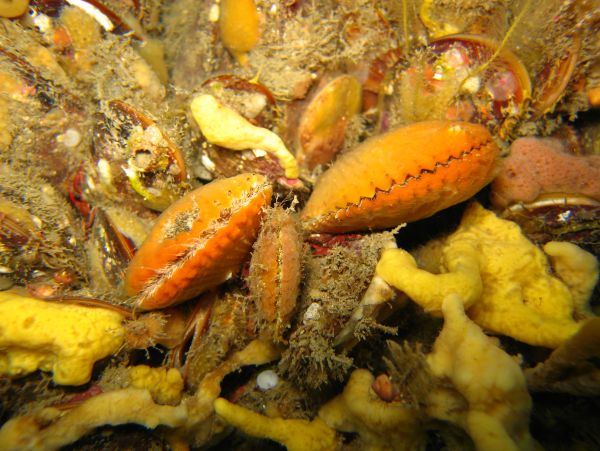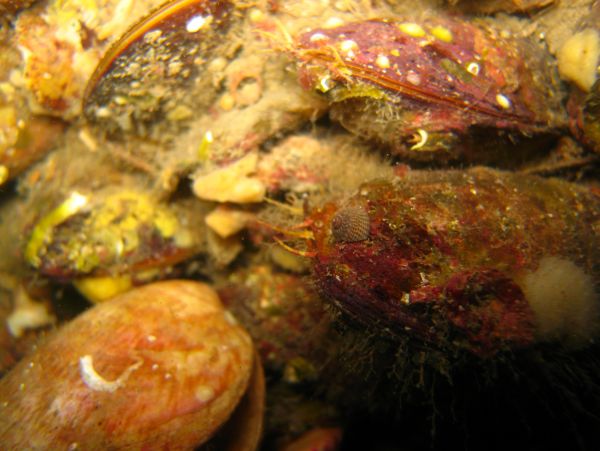 Picture 1: Spiny scallops, mussels, sponges and hydroids. Picture 2: Horse mussels and topshell (Gibbula cineraria) (Caroline Perry and Phil Roriston)
 
Their Scots Gaelic name, 'clabaidh-dubha', means black mouths, which aptly describes this 'wall of mouths'.
However, their filtering behaviour has benefits for humans' so-called ecosystem services, in that they reduce suspended material, improve water clarity and help remove nutrients, such as land-generated nitrogen and phosphorus, via their consumption of phytoplankton. 
For a demonstration of how effective mussel filtration can be, check out this video
While Little Ness' treasures lie predominantly beneath the waves, it's actually a top spot for coastal wildlife watching, with whales and dolphins, seabirds and various plant species readily accessible from Marine Drive.
So, whether it's an early-season blue carpet of spring squill flowers, cliff-nesting peregrines in summer, Minke whales in late Autumn, or year-round harbour porpoises, there really is something for everyone.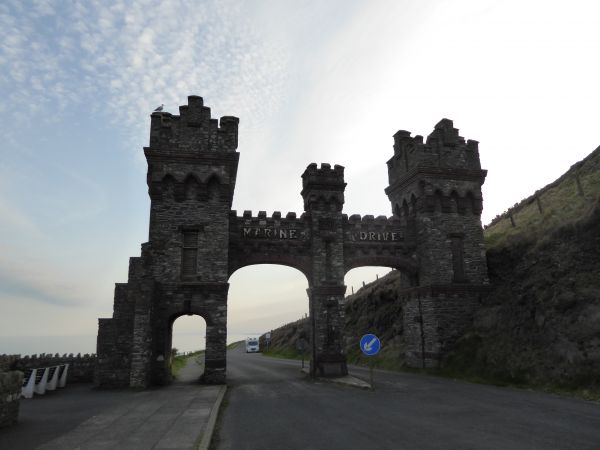 Marine Drive lookout, perfect for wildlife watching
To find out more about Little Ness MNR's attractions from the above-water perspective, look at our information leaflet and an activity 'spotter sheet'.
The proximity of a marine hotspot like Little Ness so close to a major town like Douglas is remarkable and its recent designation should help maintain this underwater 'jungle' for years to come.  
References:
General horse mussel information
To find out more about the Island's Marine Nature Reserves, click here.
Posted up on 18th July 2020