Two of the Island's best known litter-picking groups joined forces just before lockdown to stem the tide of rubbish washed ashore at Douglas as a result of winter storms, piloting a new app.
A joint event between Beach Buddies Isle of Man and PlasticBusters was organised by their founders Bill Dale BEM and Jaime Amoedo.
Bill said: 'This was a record-breaking event, with 117 people joining in on Douglas beach, boosted by the team from PlasticBusters. Piloting a new litter-spotting app, we collected 520kgs of rubbish in about 90 minutes.'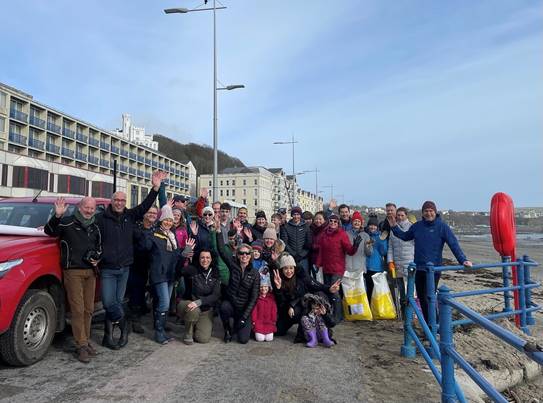 The pre-lockdown clean of Douglas beach
Jaime said: 'I would like to thank all of the volunteers from both groups that came together to clean Douglas beach. It was an extraordinary example of collaboration to support the preservation of our beautiful Biosphere.'
Both groups support Eyesea, a new pollution-mapping platform developed by the shipping industry, which is used to photograph, tag and map pollution, both at sea and onshore.
Jaime said: 'It was great to test the Eyesea app for the first time and it gave our volunteers the opportunity of having quality information, in advance, about the specific location of waste that had been washed up on Douglas beach.
'This allowed us to focus our efforts in those areas that needed most attention. We will definitely recommend the use of the app to our volunteers globally when it is formally launched.'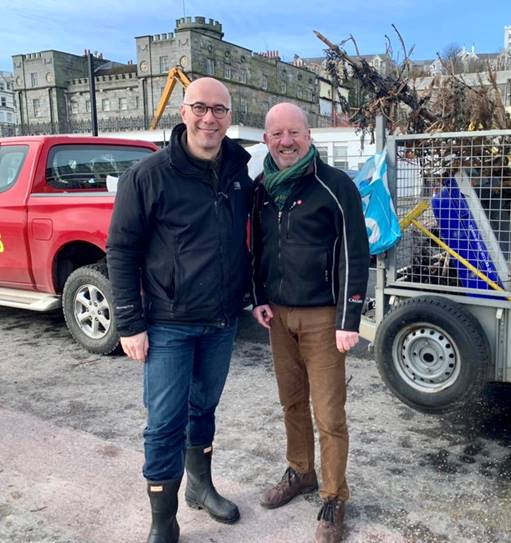 Jaime Amoedo (left) of PlasticBusters and Bill Dale BEM, of Beach Buddies
Island resident Cath Robertshaw, of Eyesea, said: Preserving our beautiful Isle of Man UNESCO Biosphere takes hard work and effort. Bill Dale of the internationally acclaimed Beach Buddies and Jaime Amoedo of PlasticBusters are a positive driving force in our community to get cleanups done, and it was fantastic for Eyesea to play a small role in helping to streamline efforts and maximize success.'
Graeme Somerville-Ryan, founder of Eyesea, said: 'We believe there is a major role for Eyesea in helping communities efficiently and effectively care for their coastal environment, and we can provide key support to community and government clean-up initiatives.
'It was great to see a proof of concept test work so successfully. We are grateful to Bill and Jaime for letting us be involved in their great work.'
Meanwhile, Beach Buddies is encouraging people to exercise with purpose during the remainder of the lockdown, and pick up litter as they go.
Bill said: 'Every community group has been affected by the coronavirus pandemic and Beach Buddies is no exception. However, the situation has led to new opportunities and ideas, and one of these has been a significant success.
'Beach Buddies' volunteers are now using the option to take their permitted daily exercise "with a purpose". Hundreds of free litterpickers have been distributed across the Island to people looking to do something useful with their exercise period.
'This has been especially popular amongst families, giving children in particular a point of focus as they take a daily walk with mum and dad.
'It has led to a large number of families deciding to "adopt" areas close to their homes - such as parks, glens, footpaths and pavements - and keep them litter-free.
'And this, of course, includes beaches too, which are now looking clean despite the serious storms of January and February.
To get involved, email to beachbuddiesisleofman@gmail.com
Follow all Isle of Man Government advice over Covid-19.
Posted up on 14th March 2021