Our #CloserToNature series of blogs aims to keep us connected with nature this spring while staying at home. Landscape architect and herbalist Jane Prescott tell us how she has invited nature into her garden - and how it repays her:
How do you feel about your garden? Do you love it or feel frustrated by the maintenance that you feel it demands.
I love my garden. It is essential to my well-being, my sanctuary and happy place. It is green and peaceful, my personal space where I can relax in the sunshine, entertain friends (under normal circumstances) and get my hands dirty gardening. 
I have sat here at dusk listening to the melodic sounds of blackbirds heralding the night, watching out for the first stars to appear like magic in the paling sky, followed by bats emerging from their roost to fly around the garden.
I wake to a robin serenading me, whilst in winter skeletal trees are silhouetted against moody skies.  
I have a passion for plants which has deepened over the years as I have learned and paid attention. I like to grow species that show their assets at different times of year whether that is beautiful scented flowers, textured leaves, autumn colour and berries or coloured winter stems.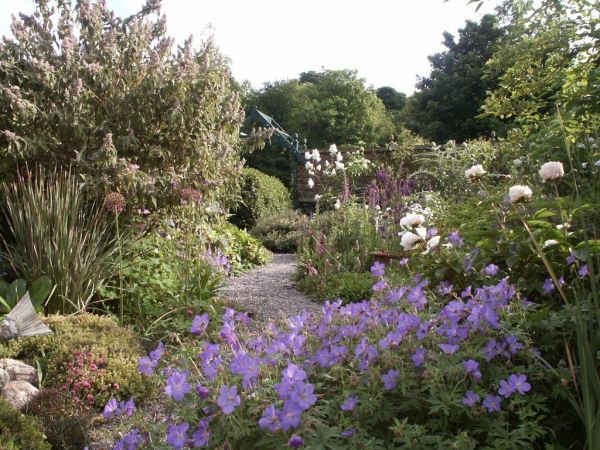 Some plants have become old friends, whilst others have failed the test of time or succumbed to poor husbandry on my part.
For years my husband, Steve, tended our vegetable garden and having a year-round supply of fresh produce was an essential part of our well being. Very sadly, he passed away two years ago and so I have learned to grow my own vegetables and found that I love sowing seeds and watching them grow.
Does anything taste better than vegetables and herbs fresh from the garden?
My garden has now become my place of solace; it is where I feel closest to Steve, nurturing the beds as he did, as well as tidying his shockingly disorganised shed!  
My garden is not a tidy garden, as I like to leave some space for wildlife, maybe not the recently-arrived rabbits, though.
I provide bird boxes and vegetation for cover for birds and flowers to attract insects.  These add life to my garden as well as extra colour, movement and sounds. 
If I ever feel discombobulated, my garden is the place that will soothe me and teach me that nature is always there for me, if I just pay attention to her; there will always be something to inspire, admire and wonder over.
I recently set up a new Facebook group, Healing Gardens and Herbs, with the hope that it would provide some positivity during the measures resulting from the Covid-19 emergency. 
I have been delighted by the engagement that I have had from my new community and some comments have brought me particular joy. One lady described how she had never before paid attention to the beauty of a Magnolia bud unfurling from its silky bud, whilst a gentlemen described how he had been encouraged to pay attention to his garden and on his daily walks found an exciting new world in the ordinary.
I love my garden, but it is not an accident. I have created the spaces, grown the plants and invited in nature. In return it delights my senses and helps to keep me well. 
I hope that this inspires you to look afresh at your own special place in nature and use the power of your senses to discover what it has to offer in more depth; and also what you can give back in return. 
Posted up on 26th April 2020