Where and what does it cover?
Where and what does it cover?
UNESCO Biosphere Isle of Man means that the whole Island is a recognised biosphere region. In fact, we're the only entire country ever to be awarded this great honour. It's a world first for the Isle of Man.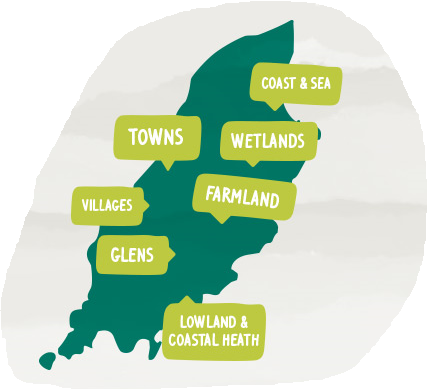 where...
Biosphere Isle of Man would apply right across our land and marine environment, in other words covering:
Coast and seaBeaches, cliffs, out at sea and underwater.
UplandsHillsides, moorlands and plantations.
GlensOur stunning 'natural gardens', originally planted by the Victorians.
Lowland and coastal heathWonderfully diverse areas of heathland along the coast.
WetlandsAreas that support often rare plants, animals and insects, for example, The Curragh.
FarmlandThe rolling arable and livestock fields that are such a distinctive feature of our landscape.
Towns and villagesThe places where we live and work.
what...
Biosphere Isle of Man sees us celebrating and raising awareness of special areas, projects and activities that are helping to keep our Island special.
For example, there is a huge amount of great work being done to safeguard our iconic wildlife and natural treasures on the Isle of Man: plants, birds, mammals, insects and marine species. 
Alongside this, community groups across the Island work tirelessly to promote and preserve our unique culture and legendary community spirit. 
Take a look in the Gallery to see some of these projects brought to life
Zoning
For the purposes of Biosphere Isle of Man, there are three zones. We're working with our partners and stakeholders to decide where these will be.
Core Zone Core Zones are extra-special sites for the conservation of nature or culture. These encompass protected areas that are already in place – for example, Areas of Special Scientific Interest such as the Ballaugh Curragh.
Care Zone

These zones link to other zones and are managed in a way that's compatible with conservation.  Other world biosphere regions call them Buffer Zones, but we prefer Care Zone as this describes more clearly what it's about – ie, taking good care of these areas.

Sustainable Development Zone

These zones cover our urban areas and all remaining areas outside of Core and Care Zones, with a focus on developing our communities and economy in a responsible way.