What does our Biosphere cover
What does our Biosphere cover
Central to our designation was UNESCO evaluating whether we have the special environment warranted to be a Biosphere.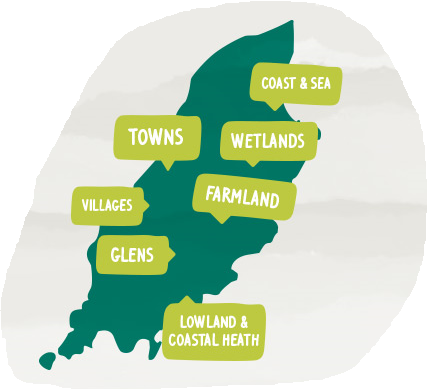 UNESCO MAB evaluates this by breaking Biospheres down into core, care and transition areas (in some Biospheres these have different names but mean the same).
This map, depicting core, care and transition areas, can be viewed in more detail in our nomination papers.
The Island is the only entire nation Biosphere and all our land and our territorial sea is included.
When designated, Biospheres have three zones, or areas. In the Isle of Man these are:
Core areas:
Habitats worthy of the highest protection and already protected in law.
The Ayres National Nature Reserve, Areas of Special Scientific Interest, the Ballaugh Curraghs Ramsar site, the Calf of Man, Ramsey Bay Marine Nature Reserve, Port Erin Bay Closed Area, Baie-ny-Carrickey Closed Area, Douglas Bay Closed Area, Laxey Bay Sea Fisheries Restricted Area and Niarbyl Bay Sea Fisheries Restricted Area (all now Marine Nature Reserves).
Care areas:
Areas with ecological and/or heritage value where sustainably managed activity also occur.
Manx Wildlife Trust nature reserves, Manx National Heritage land, ancient monuments, uplands, glens, public footpaths, plantations, registered trees, water catchment areas and the rest of the Isle of Man's inshore waters, where commercial fishing is more carefully managed.
Sustainable development areas:
Towns, villages and the connecting infrastructure, and areas of our sea where we live, work and conduct everyday activity, mindful of our need to live sustainably