Biosphere Isle of Man Pledge
Biosphere Isle of Man Pledge
We have created the Biosphere Isle of Man Pledge for our project partners to use, and for the benefit of everyone involved.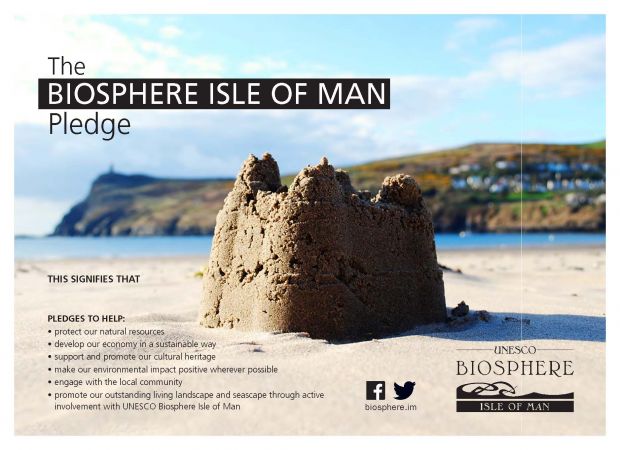 Download the Biosphere Isle of Man Pledge
Collaborating with the Island's businesses and other organisations is key to UNESCO Biosphere Isle of Man. Our ultimate aim with the project is active conservation of everything we're proud of in the Isle of Man, and we believe everyone in the Island can play a part in this.
For you as a project partner, the benefits are clear. On a local level, involvement with Biosphere Isle of Man signifies that you are supporting a project which in turn supports the Island, resulting in 'brand warmth' among stakeholders and the public. On a corporate and international level, UNESCO has very high reputational value for the organisations that are associated with it.
Meeting the PLEDGE principles
The scope of The UNESCO Biosphere Isle of Man Pledge is deliberately broad and inclusive. We don't want to be prescriptive with our project partners, which is why we leave the application of the Pledge to you.
This is not about meeting pre-set standards but about direction of travel. You don't need to be active in all of the areas highlighted in the Pledge; choose those that are the best fit for your business and most important to your staff and stakeholders.
Your focus may be internal – for example, accreditation for an environmental management system. It might be external, for example, engaging with local community projects. Or it might be both. All activities that relate to any of the principles are equally valid.
Involvement in UNESCO Biosphere Isle of Man as a project partner is not just about direct volunteering. It could be sponsorship of projects or materials. It might involve mentoring. Or it could come in the form of pro-bono advice and support for charities and community groups.
Here is a little more detail in the context of the Pledge principles:
Protecting our natural resources – this could relate to anything you're trying to do better that will impact positively on our natural resources, from managing water use to planting trees.
Developing our economy in a sustainable way – doing business responsibly, balancing the need for growth with respect for our natural, social and cultural environment. Responsible businesses tend to be more resilient, contributing to a diverse economy which is more sustainable than a 'monoculture' economy.
Supporting and promoting our cultural heritage – for example, staff involvement in, or corporate sponsorship of, cultural events and groups.
Making our environmental impact positive wherever possible – closely related to the first principle of protecting our natural resources, this could include anything from energy saving and waste management measures to support of local environmental projects.

Engaging with the local community – through environmental, social or community groups, whichever fit best with your business. You'll find a wide range of groups listed under 'Who is involved?' on the Environmental/Cultural, Community and Educational pages.

Promoting our outstanding living landscapes through active involvement with Biosphere Isle of Man – being an ambassador for the project and advertising the fact that you support it, thereby encouraging others to get involved.